Shanghai special from Moog
By Euan Youdale29 September 2016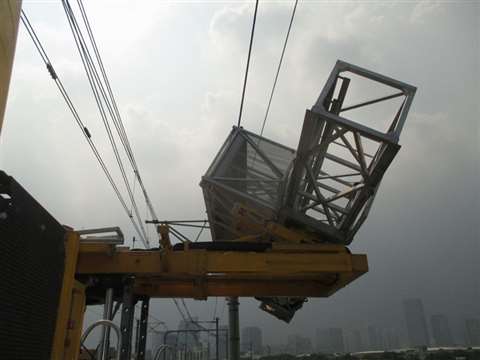 The Shanghai Metro required an underbridge unit to negotiate obstacles including overhead powerlines and sound barriers across the Chinese city.
Moog took up the unique challenge with its standard MBI 110-1.2/S, which was customised to meet the customer's requirements and renamed the MBI 110-1.2/S RR. It is mounted on a Mercedes Benz truck chassis and equipped with a Zweiweg driving system.
The platform unit was equipped with a telescopic rotation frame and a third rotation point between the vertical frame and tower to enable it to be erected between overhead lines and sound barriers. To make this special erection more manageable for the operator, all erection movements can be carried out with a remote control, with a cable length of 6m, so the obstacle is always in view. To accomplish the over-bridging of high sound barriers, the machine was also equipped with a lifting frame that enabled the whole upper structure to raise up to 1m in 25cm steps.
Fully assembled the machine can reach a horizontal range of up to 13m under the bridge with the help of a platform extension. The scaffold has a stand height of 1.7m and can be used throughout the whole length of the platform for inspection of bridge boxes, for example.
Lighting allows the operation of the underbridge unit at night, an important aspect for rail customers because rail bridges can only be fully closed and worked on during down time at night.
The training took place in July 2016 at Metro Shanghai facilities and the unit has been in operation on Shanghai's roads and rails since then.