Snorkel to expand models for Chinese market
By Lindsey Anderson29 October 2019
Snorkel, which showcased five machines during the second APEX Asia, Oct. 23-26 in Shanghai, China, said it will add two additional models to be produced from its Jintan, Jiangsu Province, China, facility in the coming year.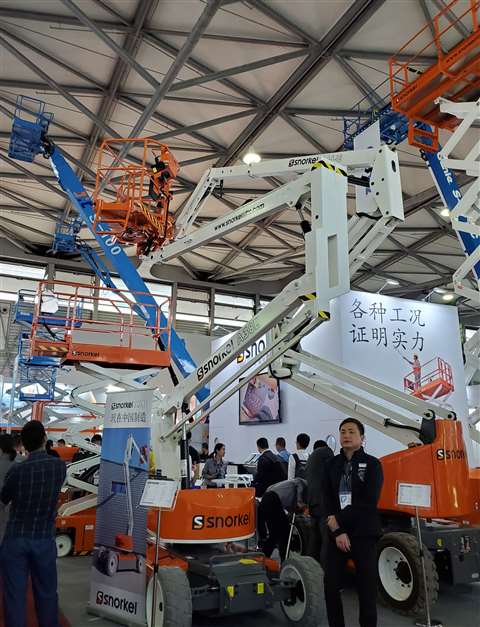 From its stand this year, Snorkel displayed the S3219E and S4732E electric scissor lifts, the A38E and A46JE electric boom lifts and the S3970RT rough terrain scissor lift. The A38E articulating lift is the latest model to be manufactured at Snorkel's facility in Jintan, Jiangsu Province. The company's 3,000sqm facility is the second manufacturing location for this model, and it will supply the domestic China market. The Snorkel A38E is also built at Snorkel's manufacturing facility in the UK, which will continue to ship to customers worldwide.
The A38E is the fourth model to be introduced to Snorkel's Jintan assembly facility, following the S3219E and S4732E electric slab scissors in 2017, and the Snorkel A46JE electric articulated boom lift in 2018. Speaking to ALH, Matthew Elvin, CEO at Snorkel, said a total of six machines will soon be produced from the Chinese facility in order to support domestic customers in China, including the company's 600S telescopic boom and a diesel version of its popular articulated boom.
"The Snorkel A38E has long been a popular model in China, particularly in industrial applications, and it is with great pleasure that we announce that we will be manufacturing this unit domestically to meet increasing customer demand," Elvin said. "This is the fourth Snorkel model to be manufactured here in China, and we have plans to add more models in the future, growing our assembly at an appropriate speed and scale to support the market. We are grateful to our Chinese customers for their ongoing support of the brand."
For a full report on Snorkel's machines and APEX Asia, see the November/December issues of ALH and AI.