Steering for success
By Laura Hatton09 December 2014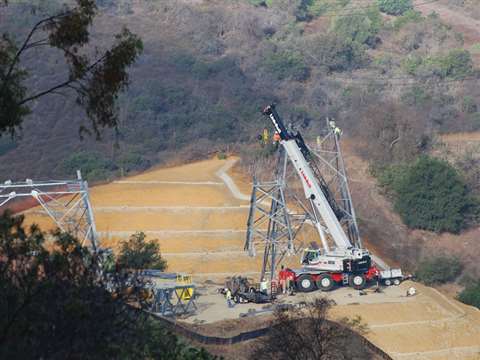 The rough terrain crane is classed as a versatile, robust and cost effective tool. Laura Hatton finds out what new models are available
Rough terrain cranes are mainly used in bare (without an operator) rental fleets and in areas where the terrain is rough and unsuitable for other types of cranes, such as mining sites, refineries, infrastructure jobs and oil and gas projects.
These types of application mean that rough terrain cranes need to be highly manoeuvrable, as a spokesperson from Manitowoc explains, "Four-wheel steering allows rough terrains to manoeuvre around constricted job sites, along with four-wheel drive capability. These features give cranes the ability to be used during the beginning phases of major projects and also in extreme areas where oil and gas exploration and development is currently taking place."
In addition to these requirements, manufacturers also offer Tier 3 and Tier 4 versions of their models, so they can work in areas that do not offer ultra low sulphur diesel fuel.
Latest models
The latest model to meet these demands from crane manufacturer Link-Belt is the 135 tonne RTC-80150 Series II. The model has a six-section, 12.9 to 59.5 metre pin and latch boom and four steering options, including independent front, independent rear, combination and diagonal. It has a 6.66 m turning radius for working on confined spaces on a jobsite. In addition, the operator's cab can tilt up to 20 degrees.
A spokesperson from Link-Belt says, "The RTC-80150 Series II joins our 100 tonne RTC-80110 Series II and 120 tonne RTC-80130 Series II to round out Link-Belt's line-up of six-wheel hydrostatic rough terrain cranes with over 100 tonne capacities. All of our rough terrain cranes have a full-length flat deck with integrated steps and handholds, and large swing out engine hood doors makes routine service checks really easy."
From US manufacturer Manitowoc is the Grove RT540 rough terrain crane. The 35 tonne capacity model was launched earlier this year. It has a 31 m four-section, full-power boom, with a maximum tip height of 47 m. It is fitted with a new cab and Manitowoc's new Crane Control System (CCS).
Mike Herbert, Manitowoc Cranes director of product planning and marketing in North America, says, "The intuitive and easy-to-use system reduces the need to train people on every crane we produce, so contractors and operators can move between crane models with ease. The system makes life so much easier on the job site, and the RT540 will suit a huge variety of jobs and complete work faster."
The model also has a new swing system which uses improvements in the crane's hydraulics and electronics to offer closer control and a better feel for the operator, the manufacturer said. The swing system works in conjunction with CCS.
Also new from Grove is the RT770E. The 65 tonne capacity crane has five-section, full power 42 m boom, which has single-cylinder technology that eliminates the need for a hydraulic hose reel and boom inserts. Paul Cutchall, rough terrain product manager for Manitowoc Cranes in North America, explains, "We were able to lengthen the boom without adding more size and weight to the chassis. This enables the crane to be manoeuvrable, while delivering greater lift capacity and longer reach than other cranes in its class."
The RT770E has an 8 x 3.33 m chassis and is the crane is powered by a Cummins 6.7 litre engine. It has both four-wheel drive and four-wheel steering. In addition, it can be fitted with a 10.1 m to 17.1 m bi-fold swingaway jib providing a reach of 59.1 m and extended working radius of 43.9 m.
The latest model from US manufacturer Terex is the 65 tonne capacity Quadstar 1065. The crane has a 32.4 m main boom and is fitted with the new Terex cab. The model joins the Quadstar 1065, Quadstar 1075, Quadstar 1075L and Quadstar 1100. "Benefits [of the cab] include clear view of the load with hinged, tinted all glass skylight and tiltable cab, interior designed for operator comfort, and easy to use, simplistic drive controls," the manufacturer said.
Changing technologies
From TIL Limited in India, manufacturer and supplier of Grove products, is the 20 tonne Husky 620S, 30 tonne capacity RT 630C, 40 tonne capacity RT 740B, 55 tonne capacity RT 760 and the 75 tonne capacity RT 880.
"Changes in design include the introduction of high strength steel, improved and simplified electronics, longer boom extensions, compact designs, cabs with fewer blind spots and higher ground clearance," a spokesperson from TIL Limited says. "Improved productivity from our cranes, lower cost of ownership, lower initial investment and stronger residual values improve the return on investment for our customers."
Crane manufacturer Tadano offers a range of rough terrain cranes from 12 to 70 tonnes for the Japanese market and from 12 to 145 tonnes for overseas markets. The latest technologies on these models are the load moment indicator (LMI), automatic speed reduction and slow stop function on slewing, the manufacturer says.
"The LMI technology automatically detects the extension width of outriggers, offers maximum lifting capacities through each area and stops the slewing before it reaches the limits of the allowed capacity when the motion from the longer outrigger area (Point A) to the shorter outrigger area (Point B)," a spokesperson from Tadano Japan says. "When the boom stops, the slow stop function brings the motion to a gradual halt, minimising swinging of the lifting load by inertial force. Even if the operator operates the crane without being aware of a change in the capacity, the LMI monitors it continuously to maintain safe operation."