Surveying & BIM: Working as one
By Katherine Weir18 September 2019
Katherine Weir reports on the increasing uptake of building information modelling (BIM), as well as the companies that are fine-tuning the software to enhance communication and collaboration on the construction site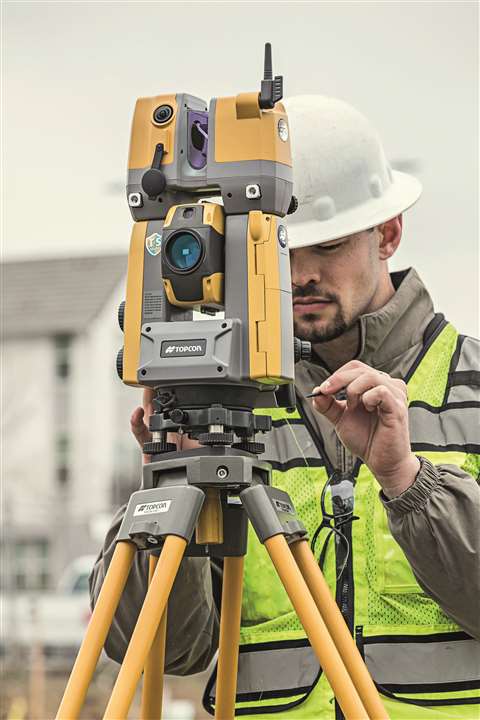 To survive in the challenging and rapidly changing construction market in Europe, companies need to embrace the use of 3D modelling software, layering it with data, and working very closely with all partners in construction and engineering projects.
Besides making the construction sector more competitive, BIM is also a tool to deliver improved infrastructure quality.
In July, the European Federation of Engineering Consultancy Associations (EFCA) launched guidelines to help project managers optimise the use of ISO 19650 – the international quality standard governing the "organization and digitization of information about buildings and civil engineering works, including building information modelling (BIM)".
The standard, launched in January 2019, will help roll out BIM across the industry and bring stakeholders together within a project.
Kevin Rudden, president of the EFCA, said, "This booklet can be regarded as the voice of engineers, explaining the use of ISO 19650 to other partners in the construction process."
The booklet includes information on the ISO 19650 standard (parts 1 and 2), important issues for managing BIM, a BIM execution plan and guidance on contracts.
Connectivity in construction
Sweden-based Hexagon, owner of Leica Geosystems, said that new technology has integrated the worlds of surveying and BIM.
Matt Wheelis, global business development director in building construction for Leica Geosystems, said, "The latest construction layout technologies work right within a 3D model, enabling construction trades in the field to complete complex assemblies more quickly, accurately and safely. In addition, more democratised reality capture technologies, combined with easy to use software, enable quick, accurate quality and status evaluation."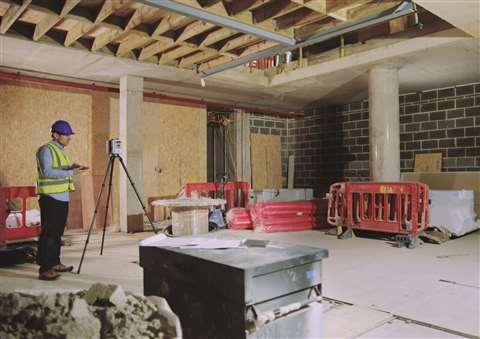 Leica's RTC360 3D reality capture solution, using computer vision and edge computing, is said by Wheelis to "take out most of the complexity of field data collection, because the solution can automatically understand how the laser scanner has been moved from collection point to collection point."
Customers have a wide array of technologies in their 'tech toolboxes' and increasingly want technology providers to work together to ensure interoperability and connectivity between them, Wheelis said.
"We have expanded integrations with data management platforms, such as Autodesk's BIM 360 Docs," said Wheelis. "We have also included industry specific formats, such as the IFC files, DWG files and the 2D pdf in our solutions due to customer feedback. Some of our latest products have also come directly from customer needs, such as touch-technology software, the latest AutoHeight feature in our manual total stations, and our construction layout tool for easier use, just released this year."
The launch of software tools that enable better communication and collaboration is a prominent trend in surveying and BIM, says Topcon Positioning Group.
Andrew Evans, product manager at Topcon, said, "3D models of reality – sets of georeferenced point plans with images – are being increasingly used on all manner of projects to help identify any site issues and rectify them before they become an expensive problem.
"It's no less specialist, but it's becoming common currency – working with 3D models is intuitive and means that more construction professionals can get involved in surveying."
Topcon's GTL 1000 is a robotic total station and scanner in one, allowing an operator to complete layout and a full 360-degree scan on a single set-up. The data is processed using Magnet Collage and input to ClearEdge3D Verity, a tool that automates construction verification.
In surveying and BIM, vertical construction is the area in which Topcon is seeing the most growth. The main discussions taking place between members of Survey4BIM – a cross-discipline industry working group – are about making sure the geospatial elements of BIM are understood so that concepts such as the 'digital twin' can continue to be integrated.
Common data environment
Oracle's Aconex cloud solution, launched earlier this year, is said by the company to remove the challenges of BIM – lack of collaboration, reliance on multiple applications and missing integrations – by enabling construction design and project professionals to collaboratively manage BIM models across the entire project team in what's known as a true common data environment (CDE).
Organisations can reduce the risk of errors and accelerate project success by ensuring each team member has access to accurate, up-to-date models, Oracle said.
Frank Weiss, director of new products, BIM and innovation at Oracle, said, "By integrating authoring and validation applications to the cloud, users don't need to upload and download their issues and clashes anymore.
"There's so much noise and confusion around BIM and CDEs, much of it driven by misinformation in the market about what each term means. We believe everybody on a BIM project should work with the best available tool for their discipline. Therefore, open formats are critical for interoperability, and the use of a true CDE is key to efficient and effective model management."
The model coordination solution is said by the company to enhance Oracle Aconex's existing CDE capabilities, which are built around Open BIM standards and leverage a cloud-based, full model server to enable comprehensive model management at all stages of the project lifecycle.
Software company Bentley Systems has seen a substantial transformation in the way independent surveying firms and teams within infrastructure organisations are working.
Phil Christensen, senior vice president, reality modelling and cloud services at Bentley Systems, said, "Perhaps the most significant change is that these teams are evolving from being just service providers delivering a one-time static set of data, to becoming custodians of location-based data that continues to evolve over time."
Customer demands play a large role in product development at Bentley, including making BIM technology more accessible to everyone in the organisation.
Christensen said, "We are addressing this need through mobile phone capture and cloud processing. Our iPhone mobile app allows anyone to take a series of around 50-100 photos of a location of interest and automatically create a 3D reality model. Related to that is the ability to process a set of photos using the ContextShare cloud service."
The company is seeing 'very high levels' of interest across several parts of the market, including city and neighbourhood surveying for urban redevelopment, as well as road and rail projects – especially metros.
Santanu Das, senior vice president, design integration business unit at Bentley Systems, said, "Moving users from a static, traditional BIM workflow to a more digital one requires the current model to integrate with various on-demand, real-time services. For OpenBuildings and OpenRoads products, we are providing our users with services like ProjectWise Review to conduct real-time collaboration of the asset on the cloud. A new BIM Quality Checker service will enable users to check their model against regional code requirements for serviceability and operation before the construction phase."
Lie of the land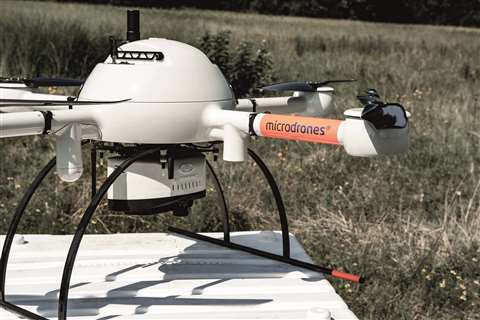 Unmanned aerial system (UAS) company Microdrones said that one of the challenges facing surveyors is flying beyond visual line of sight (BVLOS). Current UAS regulations require pilots to keep their drone within line of sight, or within the visual line of sight of a visual observer who is co-located and in direct communication.
Sebastian Long, sales manager at Microdrones, said, "As the drone industry continues to advance technology, BVLOS flight will be an important contribution to surveying projects that require distance, corridor mapping, and large-scale operations."
In terms of new product design, Microdrone's mdCockpit Android tablet app gives users the ability to easily plan, monitor and analyse flight data right from a tablet. Features such as batch waypoint mission panning, resume flight function and fixed yaw survey are said to simplify surveying.
Pix4D, a photogrammetry (making measurements from pictures) and drone mapping software company in Switzerland, describes two major changes that have happened in surveying in recent years.
Julian Norton, business development, construction at Pix4D, said, "First, the capturing of 3D point clouds [both laser scanning and drone mapping] has become much more accessible with cheaper technology, being more reliable and easier to use, and so are produced routinely as part of a survey. Point clouds are now common and understood by the construction industry and are part of the digital construction workflow.
"Second, capturing survey data has become much simpler, so non-survey professionals can now collect data that previously required expensive equipment and expertise. Both factors have created a larger demand and quantity of survey data, and its subsequent use in the BIM process."
Pix4D's core technology allows customers to fly drones over construction sites and produce 2D and 3D mapping data.
Norton said, "Many customers find flying drones can be problematic with gaining permission and with weather issues. We developed the Crane Camera solution to overcome this problem. Fixing a camera system to a tower crane provides construction data automatically, and daily, without any intervention on site by drones or surveyors."
The company says that the Crane Camera is being adopted rapidly. Pix4D plans to develop its associated software solution to allow customers to detect errors, check schedules automatically and easily share archived data.
Safety first
Manufacturer of wire joining and suspension systems, Gripple, says that one of the greatest advantages with the use of BIM has been clash detection. In a virtual model, issues can be picked up before work starts on site.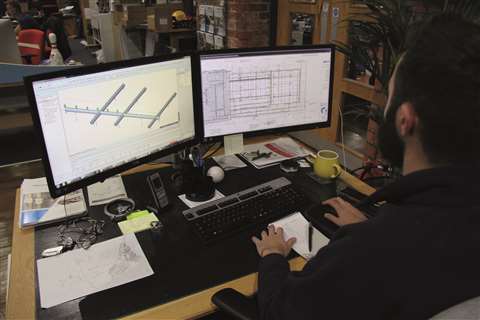 Dane Rutter, senior engineer and BIM manager at Gripple, said, "Recent technological advances allow for closer collaboration between the manufacturer and contractor. It means partnerships can be created as our BIM capability feeds into the client's process, which increases efficiency in delivering projects.
"There is now greater efficiency in planning, designing, procurement and construction and accurate BIM and scheduling ensure waste is minimised which can improve the environmental credentials of a project. It is now possible to design out risk and still ensure quality while providing time and cost savings."
Gripple has been involved in one of the largest education projects in Europe, a new £63.5 million (€70 million) education campus in East Ayrshire, Scotland. Part of the project from the early stages, the company gave input into 'design philosophy and concepts' in terms of building service layouts.
Rutter said, "Integrating with our client's BIM execution plan was critical from the outset. Once concepts were established, we worked with designers on coordination and layouts to ensure the most efficient use of Gripple products on site."
The company has developed a series of BIM product families, designed to make them easy to manipulate in the virtual environment. All these families contain appropriately formatted product data in accordance with BIM requirements.
Speaking about the company's busiest markets, Rutter said, "We are already seeing a number of projects in the commercial sector adopting the BIM process to help deliver the same benefits as those experienced in the public sector, which have been pioneered by contractors working on projects with central government funding."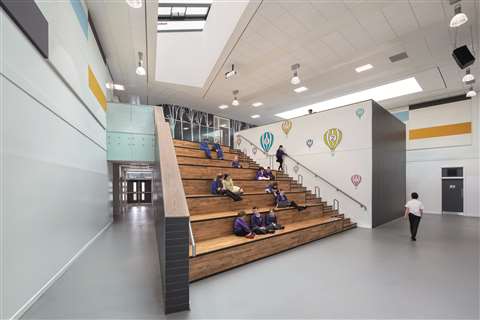 UK-based design and engineering company BakerHicks says that checking and validation are a big theme in the way that BIM and other technology is being used within the engineering and construction industry.
Augmented reality (AR) is now being used to project design models onto 'as-built' facilities, providing a visual and easy way of checking that what is being built matches the design.
Trevor Strahan, head of BIM at BakerHicks, said, "We've used the Microsoft HoloLens mixed reality headset on a variety of projects. This technology allows us to superimpose the holographic BIM model onto the areas of the facility to be verified, the project team can then 'walk through' the building wearing the headset to check and audit the actual built product against the original design.
"For us, the next step is exploring possible applications of 'generative' design, which uses algorithms and constraints to create multiple design layout options," said Strahan.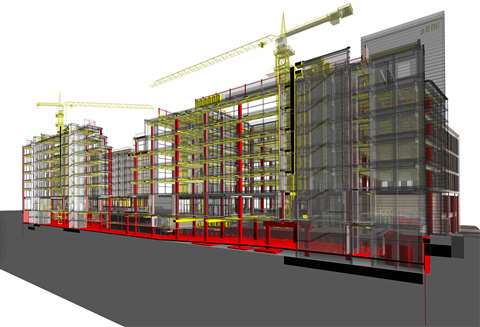 In West Dunbartonshire, Scotland, BakerHicks carried out the role of BIM information manager for the Balloch Shared Campus – bringing three primary schools, an early learning centre and an additional support needs (ASN) base together under one roof.
Strahan said, "Working with the project team, we produced the BIM execution plan (BEP) and ensured everyone understood the objectives and how they were to be met. Support was provided throughout the project, including extensive training on software, process and workflow. This helped ensure the delivery of asset data that can be used in the management and maintenance of the campus throughout its lifecycle."
The company says universities are leading the way in BIM uptake, and there is also strong interest in the aviation sector, with major international airports employing BIM on their projects.
Doka: building bridges with BIM
The A85 motorway in Langeais, France is one of the main thoroughfares connecting the cities of Anger and Vierzon. Along the route, six viaducts have been expanded to improve the flow of traffic, with a new bridge built in parallel to six of the existing viaducts; giving the route two lanes in each direction and increasing the safety of the motorists, said formwork experts Doka.
Doka used BIM to deliver an 'efficient and easily adaptable' formwork solution for widening the Viaduc de la Roumer section. The bridge is 249m long and 80m wide; the tallest of the piers is 20m. Located in the middle of a forest area and with close proximity to the existing bridges, this dictated that the construction work be done in very tight quarters.
Using BIM, information could be coordinated during all phases of the project lifecycle. Doka used the construction model of project owner NGE GC as a starting point and modelled a digital twin with the data relating to the structure. This process provided the opportunity to discover and eliminate inconsistencies early on.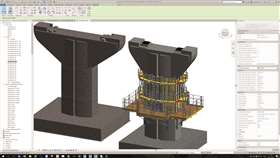 Gerhard Schindler, BIM project coordinator at Doka, said, "The important benefit lies with process design and process simulation. This means the client can time the use of formwork systems perfectly. Not only is onsite management of construction optimised, but this process also ensures a fast and smooth construction progress."
The bridge will open in January 2020.
The next generation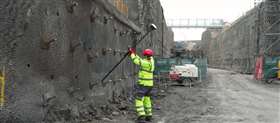 In the UK, the Hinkley Point C nuclear power plant construction project – representing an investment of around £19.6 billion (€21.6 billion) – is a prime example of digital transformation among the younger generation of surveying and geospatial professionals.
Andrew Hurley, global commercial director at Hexagon's geosystems division, said, "What's really cool about this project is that the teams surveying and building it are youngsters. They're the next generation. They're a generation of people that have been brought up on tap, touch and swipe. They have a thirst for technology. They have no fear in exploring new ways or exploring new techniques to get the job done. They'll throw up a UAV just to capture information to evaluate construction progress.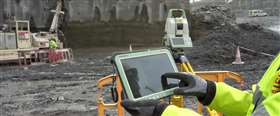 "The surveying teams think in 3D. They think through visualisation. For some of us, we may think this is very high tech, but for them it's just natural."
EDF Energy plans to make the Hinkley Point C nuclear power station live in 2025.
BIM Experience Centre opened in Rotterdam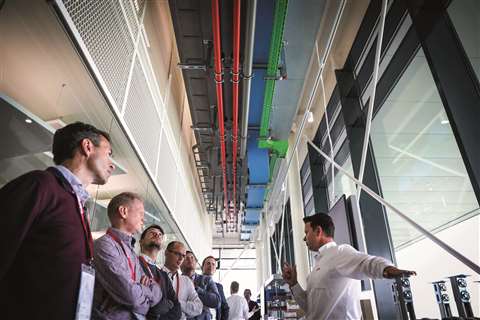 Liechtenstein-based Hilti opened the BIM Experience Centre in Rotterdam this June, said to 'bring to life' the digital evolution of construction projects through the combination of applications, services and digital elements.
The new centre addresses the growing challenges of digitalisation in the construction industry while bringing together the knowledge of industry experts in the Netherlands.
At the inauguration, Dr Stefan Nöken, Hilti Group executive board member, said, "The construction industry is currently undergoing tremendous changes. Over the next ten years the industry will be transformed to a greater extent than it has been over the last 100 years. Building information modelling will take up an important place in the industry and a transformation will also occur in the future level of cooperation between everyone involved in construction."