Time saved in turbine delivery
By Alex Dahm11 January 2016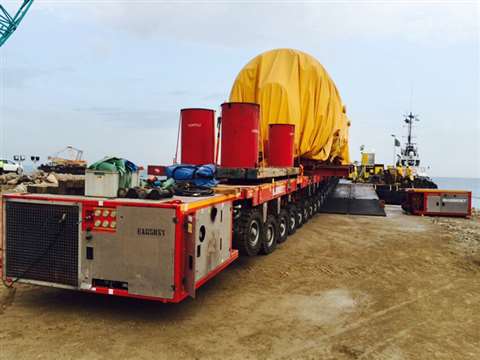 Mammoet found a way to save time in the transport of a 400 tonne Siemens gas turbine generator from Algiers port to the Cap Djinet power plant project site in Algeria. The transport, over a total distance of 70 kilometres, took seven hours.
The challenge for Mammoet was to find a transport solution for the heavy cargo. There were concerns about how to bring the generator to the site because of poor infrastructure along the route; in the wake of a large earthquake in 2003, the condition and weight bearing capacity of the bridges was uncertain. This meant that the Algerian government prohibited the transport of cargo for the Cap Djinet power plant by road.
Mammoet came up with a solution that involved transporting the generator partly by sea. It was moved on and off the barge on 24 axle lines of self propelled modular transporter (SPMT), avoiding double handling at the port and on site. This reduced the handling risks and meant a safer and quicker transport. During the sea transport, 400 tonnes of stools and beams were used to secure the cargo.
Algeria plans to expand its power generation capacity from the current level of 11 gigaWatts to around 26 GW by 2022. Fourteen power plants are planned with eight currently being built. These are combined cycle plants, each with a capacity between 1,200 and 1,600 megaWatts. Since 2014 Mammoet has been involved in the heavy lifting and heavy transport operations for four of these power plant construction projects.