Turbine transportation in Thailand
By Christian Shelton15 February 2019
International heavy lift and transportation specialist ALE has successfully completed the transportation of heavy wind components through what it describes as 'a challenging 1,000 km route'.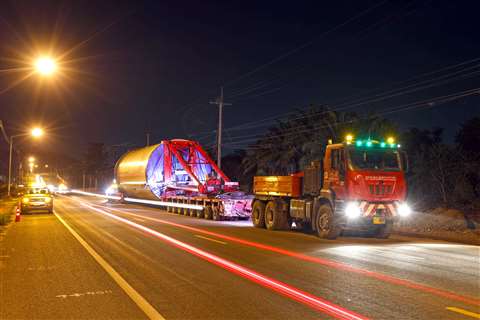 Starting in April 2018, ALE was contracted for the transportation, craneage and installation (TCI) scope for 13 wind turbines for the Rom Klao wind farm in Mukdahan, eastern Thailand.
The components measured up to 5.4 metres in diameter and weighed up to 125 tonnes.
For the transportation job ALE used specialist wind equipment including RA4 tower clamps, which enabled it to comply with local weight and height restrictions, and the K1650L tower crane, which can lift 135 t and operate in wind speeds up to 15 m/s for lifts above 60 tonnes.
The wind turbine generators (WTGs) have a hub height of 162 m, which ALE said makes them the tallest WTGs in South East Asia.
"This was a complex scope of work and route," said project manager Matt Thomson. "The new tower clamps enabled us to overcome the large diameters of the tower sections and reduce the travelling height to pass under the restrictions on route. Combined with the tower crane, our equipment and methodology has driven project efficiency. We are really pleased to be involved in a project of this scale. It really showcased how we brought together different expertise within ALE to achieve the safe and successful completion of every stage."
ALE completed the full TCI scope in January 2019.