United Rentals supplies MEWPs for murals
By Lindsey Anderson07 August 2019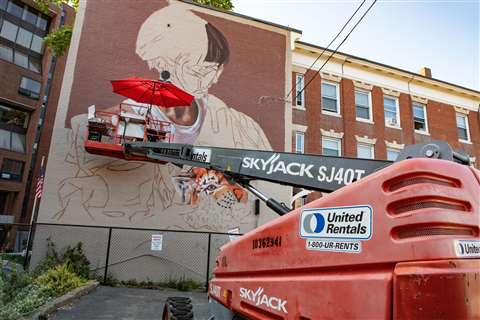 United Rentals recently supplied mobile elevating work platforms for artists to paint 12 large-scale murals during the Beyond Walls festival in Lynn, MA.
The two-week festival, which ended in early August, attracted local and internationally renowned artists to produce murals and mixed media works of street art that are displayed throughout Lynn. The artists used boom and scissor lifts from United Rentals to provide stable work platforms to produce artwork in busy city surroundings. Some of the buildings involved in the mural projects abutted other structures. In these instances, the aerial equipment, which ranged up to 135 feet, lifted artists up and over buildings so they could do their work.
A city with a rich history, Lynn is located 10 miles north of Boston and has faced difficult economic and public perception conditions for decades. The street art festival brings to life Beyond Walls' mission to activate space to strengthen communities by integrating public art into underutilized urban environments.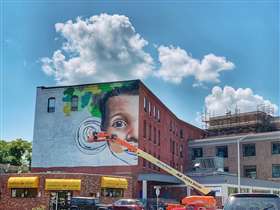 "The festival demonstrates how Beyond Walls continues to present public art in urban spaces that are often overlooked," said Al Wilson, founder and CEO of Beyond Walls. "These colorful murals are accessible, inclusive and relevant. People can look at the art and see themselves – and feel connected to the community."
In three years, the festival has produced 58 large-scale artworks on buildings throughout Lynn with United Rentals equipment used each year. The resulting street art, along with a multicolored LED underpass and vintage neon art lighting projects led by Beyond Walls, promotes city walkability and public safety. The festival attracts thousands of visitors annually and generates sustainable increased business for local merchants. Beyond Walls also engages with the city's youth, expanding student horizons by bringing artists and art to Lynn's schools.
"Beyond Walls is leading a transformation in Lynn, changing the city's narrative to a place where art is a catalyst for economic and lifestyle vibrancy," said Craig Schmidt, region vice president at United Rentals. "As a company with local employees who are deeply entrenched in our communities, we are proud of our relationship with Beyond Walls in their efforts to help revitalize the city."
United Rentals' United Academy provided equipment and safety training to the artists in advance of their work. The instruction included training the artists in safe operating procedures, along with equipment limitations, hazards and controls.
"Safety was of paramount importance. Some of the artists were not previously certified to use aerial equipment. Training not only provided hands-on practice and skills testing for the festival but also the certification will allow these artists to pursue additional, bigger projects in the future," said Wilson.
Next on the agenda for Beyond Walls is redesigning a three-acre parcel on the Lynn waterfront into a seasonal seaside park with large-scale artwork presented throughout the grounds.