Wirtgen's new milling machines
By Sandy Guthrie08 April 2019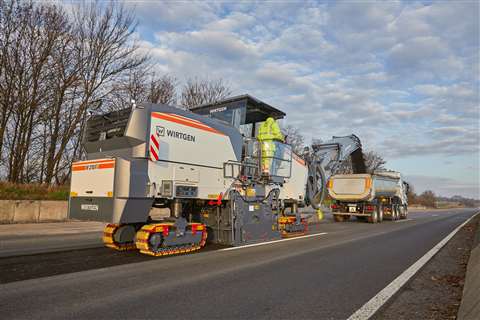 With the intelligent machines in its F series, Wirtgen has said it is aiming to help operators to maintain an optimum balance between performance, quality and costs, and is beginning sales of the W 210 Fi, W 200 Fi and W 200 F models to coincide with the start of Bauma 2019.
The machines claim flexible milling widths ranging between 1.5 and 2.5m, and milling depths of up to 330mm. The new large milling machines are said to cover a wide range of applications, from surface course rehabilitation to complete removal and fine milling.
They are equipped with engines rated at up to 563kW, depending on the machine type.
With its Connected Milling approach, Wirtgen said it was focusing on digitisation, automation and documentation of milling operations.
It added that Connected Milling stood for the direct flow of information between the machine, operator, service workshop and scheduling department. To achieve this, Wirtgen has harnessed the infrastructure of the existing Wirtgen Group WITOS telematics solution. The intelligent Mill Assist system and the Wirtgen Performance Tracker (WPT) were said to be innovative elements of Connected Milling.
Mill Assist claims to help with lower consumption, higher output and improved quality. Wirtgen said that because job-site conditions changed frequently, the milling machine operator had constantly to reset machine parameters such as the drum speed, water volume and milling speed.
Achieving optimum results required manually intervening in the process to cater to the properties of the surface being milled, it said, adding that this was an extremely demanding task because of the complex multitasking involved.
Wirtgen's described the introduction of its new generation of large milling machines as marking the launch of the first smart machines capable of independently and optimally executing performance and quality specifications from the operator.
The entire milling process is digitally mapped and simulated in real time, based on a comprehensive analysis of all parameters. In automatic mode, according to Wirtgen, the Mill Assist machine control always selects the most favourable ratio between milling performance and operating costs. The machine responds intelligently and dynamically to changing conditions. The company said this made the operator's job a great deal easier, while improving machine performance and reducing diesel, water and tool consumption, as well as CO2 and noise emissions.
It added that with the new two-speed powershift transmission, automatically controlled with Mill Assist, a larger range of milling drum speeds was now available. The diesel engine used is described as having a cutting-edge output with high torque from 1,300rpm. This reduces diesel consumption and noise emissions.
Together with the diesel engine, the intelligent control of the two-speed powershift transmission extends both the upper and lower range of possible milling drum speeds.
WPT can also be retrofitted on large milling machines built in 2010 or later.
When milling work has been completed, a measurement report is automatically generated in Excel and PDF format and sent by email – to the machine operator's order control department, for example.
Alongside the new F series, all Wirtgen large milling machines built in and after 2010 can be retrofitted with WPT.