Worsley helps avoid 'winter of discontent'
By Steve Ducker15 February 2018
Civil engineering and plant hire company Danaher & Walsh called in Worsley Plant when it was working on reconstructing an existing car park in the city of Leicester, United Kingdom.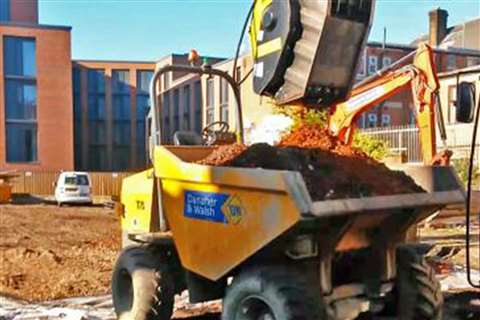 Part of the old Greyfriars Friary, the car park is a historical interest site and is now a scheduled ancient monument, as it is next to the burial site of Richard III which was discovered in 2012, and the site they are working on is next to the Richard III museum. The job involved rebuilding the car park for the diocese of Leicester as part of expansion plans for the city's Cathedral.
Due to the location being in a conservation area, work had to be carefully planned. The streets around the site were extremely narrow and with limited access, so it was vital to minimise the number of lorry movements in and around the site and to recycle as much material on-site as possible.
Worsley recommended the MB BF60 crushing bucket and the Remu EP3150 screening bucket, which the company hired for two weeks and fitted to two Caterpillar 313F excavators. Working together they allowed Danaher & Walsh to recycle 100% of materials on site.
"Every 20 t recycled on site resulted in a reduction of two 20 t wagons off the narrow streets of the Greyfriars conservation area," said site agent Matt Walsh.
"The risk was not only the environmental issue, it was also a safety one. Now we've seen the benefits of screening and crushing on site we will definitely be considering it on future projects."