Zoomlion claims 2,400 tonne AT crane record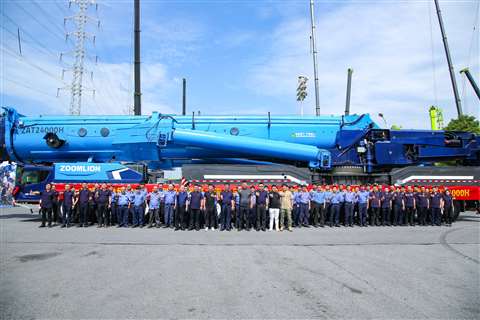 Crane manufacturer Zoomlion in China is claiming a world record for its 2,400 tonne capacity all terrain crane.
The company said it surpasses its own existing all terrain crane capacity record which was for the QAY2000, a machine rated to lift 2,000 tonnes, in 2012.
Zoomlion delivered two units of the new 2,400 tonne ZAT24000H to its first customer, the Huanghua Haibin Lifting Installing Engineering Co, in Hebei Province, on 30 June.
This latest giant was developed for onshore wind turbine installation projects. Its combination of telescopic and lattice boom allows installation of turbines up to 160 metres tall, the manufacturer said. Hoisting to this height can be achieved in 30 minutes, Zoomlion claimed. Its telescopic boom has single cylinder extension and retraction with double side pinning to help minimise side deflection.
Commenting on the purchase Shen Qi, Haibin Lifting Installing Engineering general manager, said, "When developing this product Zoomlion engaged in extensive dialogue with us to ensure they were meeting the working conditions and technical specifications. We are confident of this market-leading product as we saw Zoomlion's continuous pursuit of quality and ultimate spirit of achieving excellence."