A game of two halves as DSM tackles White Hart Lane demolition
United Kingdom-based contractor DSM Demolition has teamed up with attachment specialist ECY Haulmark to undertake a 12-week project at one of England's most famous football grounds.
White Hart Lane, home to London club Tottenham Hotspur, is being redeveloped for the 2018-19 season after the original venue staged its final fixture in May.
And while main contractor Mace has the job of making sure the new build is ready for kick off in just over 12 months' time, DSM is clearing the part of the site occupied by the club for more than a century.
Fittingly, while the professional game wrestles with new contracts and transfer windows, DSM has made a signing of its own to help the demolition run smoothly.
At the start of the contract, it unveiled a Cat 6015B high reach excavator from Finning.
Equipped with a range of five arm options developed by Kocurek, the machine can operate at 230 t with standard arms or 250 t with the telescopic option.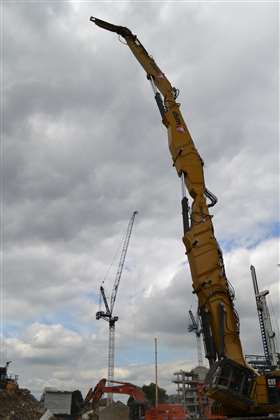 It is currently operating at a height of 38 m (124 ft) and carrying a 6.5 t La Bounty MSD2250R scrap shear from ECY Haulmark, a company that DSM has dealt with for more than 15 years when choosing products such as hydraulic breakers, selector grabs, shears, concrete processors, hydraulic magnets and buckets.
DSM said it chose the LaBounty model as it believed it to be the best available to complement the Cat high reach.
Other machines on site include a number of Hyundai R300 and R380 excavators fitted with the OilQuick automatic coupler system also installed by ECY Haulmark.