A golden age for crushers
At the Tandskov waste management company in Denmark, having gravel in the gears is a good thing. It consists of the finest quality quartz sand.
Morten Bak is a gold digger. At least that is how the Denmark-based entrepreneur looks at it when he picks up the coarse-grained quartz sand from his gravel pit, located north west of Silkeborg in central Jutland.
The coarse quartz sand is in short supply and high demand, which is why it is immediately driven 30 km (18 miles) south to joint filling products supplier Dansand, which takes all the coarse quartz sand that Morten can supply.
"Fine-grained sand measuring up to 1 mm is sold for use in cement production, golf course bunkers, and also for making cow sand," said Morten.
"In the past, we sold the quartz sand as filler, but then we learned of its great value. It was only three years ago that we first learned that Dansand was interested in our product."
As the dump trucks from Dansand roll in and out gathering the valuable material, Morten is busy in another part of his company with a shiny new 60 t product.
He was the first person in Denmark to ask Morten Gren Pedersen, the production manager at Scantruck, to order a new McCloskey J45R jaw crusher.
As the McCloskey importer for Denmark, Scantruck has now delivered the machine.
"I chose a jaw crusher because it is the least expensive to operate and it can withstand just about anything," said Morten.
"At the same time, the McCloskey machine is equipped with a screener, which makes everything simpler, even when we are about to do the crushing. We save both on sorting and transport, because everything is built into the same system."
The McCloskey J45R is a recirculating jaw crusher, designed to optimise productivity. The machine screens the crushed material, and if the material is too large, it is transported via conveyor belt either onto a separate pile or returned for further crushing.
Morten Bak's plan is to crush even more as time goes on, which is another reason to have a single large unit that can be transported on a flat-bed truck. At 60 t, a certain amount of material is needed. "However, we can also crush the material down to the exact sizes that our customers want," he explained.
Three years ago, Morten decided to sell the contracting business, which up to that point had demanded most of his attention and time. The sale to his contracting partner Michael Nørgaard, Ans-Iller Kloak and Anlæg was finalised in July 2016.
"My father founded the business as a gravel pit and a construction company in 1968, and the two activities complemented each other for many years," said Morten.
"However, in time, the gravel pit had become something of a neglected child. That's why I chose to invest in it, and I sold the contracting business off."
Material fed into the new McCloskey crusher comes in a steady stream, as Morten and his crew crush materials for other contractors, or whenever brick, concrete, and masonry rubble arrive. Morten said the company has around 60 years' worth of golden quartz sand to dig into.
Secondary operations
The Metso Lokotrack LT200HP mobile cone crushing plant is designed for secondary and tertiary crushing operations such as producing aggregates for railway ballast, road construction, asphalt and concrete fractions.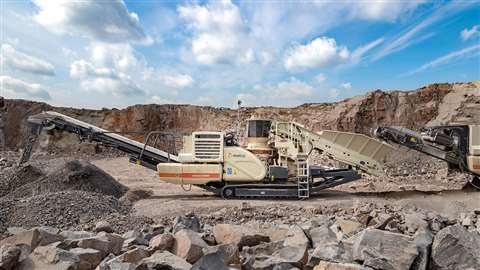 Metso says that thanks to its direct V-belt drive from the gearbox, the renewed solution delivers fuel consumption savings of at least 15% compared to hydraulic-driven cone crushers. Furthermore, the LT200HP complies with European Stage V emission regulations.
"Fuel consumption and efficiency are always at the top of our customers' priority lists and reducing levels of emissions has become an increasingly important issue in recent years," said Kimmo Anttila, vice president, Lokotrack solutions.
"In this respect, we can say the LT200HP delivers on all counts."
In addition to being more efficient, the renewed LT200HP features several safety and maintenance improvements. These include elevated service platforms to ensure safe, easy access to service and maintenance points and improvements that make daily maintenance quicker and easier.
The LT200HP is also available with the Metso ICr wireless information and control system, which allows customers to monitor and control the crushing plant from an excavator cabin. The entire Lokotrack train of primary Lokotrack plants or mobile screens can be controlled with Metso ICr for a complete crushing and screening solution.
Metso is also introducing new higher capacity models to its popular wheel-mounted NW Rapid series. In addition to the bigger jaw crusher model, the NW Rapid units are now available also with a variety of most robust cone crushers, including the first model with the MX crusher. Easily transportable using standard prime movers, over 1,000 NW Rapid models have already been sold.
Planning a crushing and screening process can typically take months. In addition, it is often difficult for aggregates producers to move their largest equipment from site to site. Metso's NW Rapid is the market's first wheel-mounted crushing unit that can be delivered in standard containers from the factory as well as easily moved from one site to another using standard prime movers. The flexibility of the concept allows producers to profitably offer their customers contracts of various sizes.
Apart from portability, Metso says other advantages of the NW Rapid models include quick set-up and best-in-class production capacity. It has been designed so that it can be set-up and dismantled in 24 hours, and the 11 predesigned layouts are said to make planning the crushing process significantly faster. The solution consists of modules that can be used to create a variety of combinations as needed.
"A large share of our customers supply aggregates for public infrastructure projects that can last from a few months to a couple of years," said Julius Mäkelä, director of portable and modular solutions.
"Depending on the project phase, our customers must have the ability to offer also very high capacity. The new NW Rapid models enable production capacity to temporarily be increased up to 500 t/hr, which is equal to the capacity of a fixed plant. Because of the flexibility, customers can better respond to short-notice orders and can accept contracts that couldn't be carried out with the traditional fixed solutions."
The NW Rapid series models are electric-driven and they have Metso's IC Series crushing automation as a standard feature. The units can also be connected to the Metso Metrics remote monitoring service, which allows central monitoring of the entire crushing fleet's production and energy consumption.
The series is described as ideal for producing high-quality end products with multi-stage crushing and screening units. Now, the NW120 jaw model will be joined by the screen-equipped NW330GPS and NW300HPS cone crushers. The NW4MXS is the latest introduction to the series and brings the MX4 Multi-Action cone crusher, launched in 2017, to the integrated crushing solution for the first time.
Serial production of the NW4MXS will start in the second half of 2019. For other models, factories are already working to bring new machines to customers globally.
Metso says the NW Rapid series has sparked great interest, and more than 1,000 units have been sold since 2015.
"The demand for Metso's crushing and screening plants has been growing in recent years," said Renaud Lapointe, senior vice president, business and product management for aggregates equipment.
"In fact, NW Rapid has quickly become one of our most popular solutions, especially in fast-growing markets like India, where urbanisation and huge public infrastructure projects have accelerated growth of the aggregates sector. Because of the flexibility and cost-efficiency, NW Rapid is of interest also in several other markets: the equipment has already been sold to more than 20 countries."
Tracked mobiles
The tracked mobile impact crushers of the Remax series made by SBM Mineral Processing have already been top-technique models on the market for many years. In 2018, the models were updated once again. In addition to its outstanding technical features, the Remax 400 is also an excellent choice on the road according to SBM.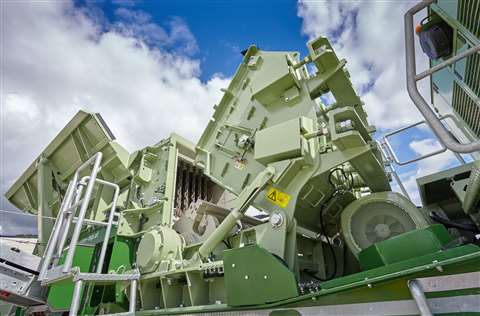 SBM basic-equipment medium-class impact crushers without secondary screen have a total weight of less than 40 t. Due to consequently harmonising all components, the dimensions of the previous model could be optimised once more resulting in a reduced transport height of 3.6 m (just under 12 ft) only and a maximum width of 3 m (10 ft).
Intelligent use of the compact dimensions is said to be the absolute precondition to realising an overall transport flexibility unmatched in the market in this power class. For Geiger Unternehmensgruppe from Oberstdorf in Germany, transportability was the key decisive factor to purchase this plant.
"On average our plant changes its location every two to three weeks," said Raphael Müller, production manager for construction materials and recycling.
"To profitably transfer the plant in an economic period of time, the complete weight of the truck must not exceed 60 t. Our aim was to obtain a permanent transport permission in Germany, and we succeeded."
Austrian company Rockster Recycler has developed a wind sifter retrofit kit for its mobile crushers. The company says that with relatively little effort, the final products to be produced can be significantly increased in value as the partially unavoidable contaminations in the crushed material are simply blown away.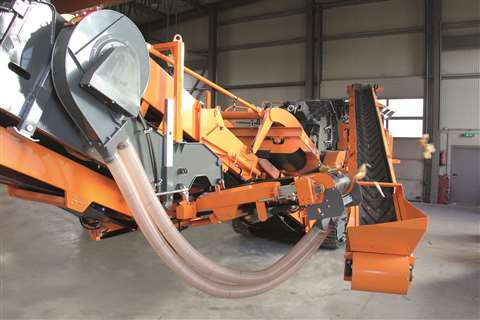 The RVB1700 separates non-mineral components, like paper, wood or foils, from the crushed material. This results in a cleaner and higher quality final product, so it is possible for Rockster customers to work in a more economic and environmentally friendly way.
The centrepiece of the RVB1700 is a variably adjustable blower, which is connected by flexible hoses to the air nozzle. This air nozzle is adjustable in inclination.
Through the narrow slot of the air nozzle, the air emerges and blows diagonally from below through the crushed material, so that the unwanted lightweight materials, such as polystyrene, textiles, gypsum, foils, wood, get removed.
The Rockster RVB1700 wind sifter is hydraulically operated and can be completely integrated into each Rockster crushing plant.
This article is taken from the January-February 2019 issue of Demolition & Recycling International. To register to receive the magazine on a regular basis, please visit www.khl.com/subscriptions