A guide to ConExpo 2023
By D.Ann Shiffler07 March 2023
At long last, ConExpo is back, and the construction industry is very excited. With ConExpo 2020 a distant memory, equipment manufacturers are ready to show their customers and potential customers all their new products.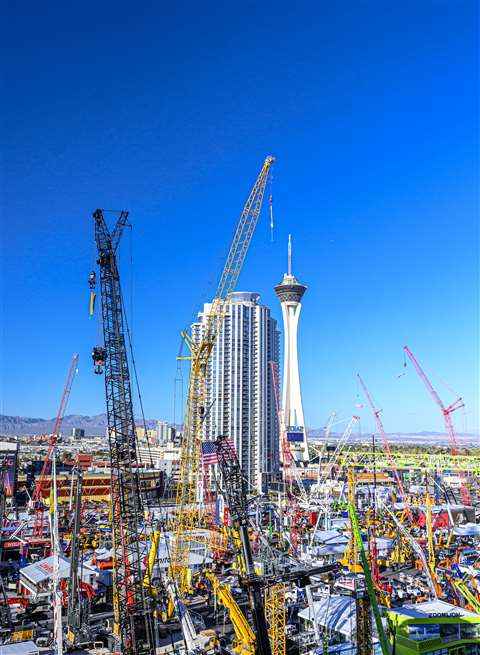 The element of surprise is huge at this show, with almost every OEM planning to roll out their latest and greatest secrets.
Just to get a vibe for the show, ACT queried a few people about their expectations for ConExpo.
"When you asked us last year how we are feeling about ConExpo, we said that we will go where our customers are and it looks like that was a good decision," said Tadano's Sven Ebinger. "Over the last weeks we saw a tremendous amount of interest and the excitement is building up amongst our customers and team members."
Booth set-up in Las Vegas is in full swing, Ebinger said.
"We can't wait to welcome everyone to the Tadano booth, especially those customers who were not able to visit Bauma," he said. "We are inviting attendees to 'Take a Closer Look at Tadano' and experience all the advancements made over the last three years, and of course the surprises we have in store."
Manitex International CEO Michael Coffey said his team is looking forward to visiting with dealers, customers and industry partners at ConExpo this year.
"For many, this will be the first time we have been together in years," he said. "With pandemic travel restrictions behind us, we are looking forward to vibrant attendance."
Coffey said that Manitex International customers are optimistic going into 2023, and the demand for product has remained strong.
"Inflation, logistics and supply chain influences continue to surface as real issues and challenges," he said. "These challenges are outweighed by infrastructure, energy, general construction and fleet replacement needs which are top concerns for our dealers."
Link-Belt's Bruce Kabalen, speaking from Las Vegas, where he was overseeing the setup of Link-Belt's booth, said this was his ninth and final ConExpo. He plans to retire from Link-Belt after the show.
"I think everyone is excited to get back together, remembering the debacle at the end of the show in 2020," he said. "Everyone is pretty excited, from the show management folks to the people here setting up the booths. Everyone thinks it's going to be a huge show. I have no notion about international attendance, but from a U.S. perspective, I think it will be big."
Link-Belt's product line-up will be better than ever he said.
"We didn't pause through the pandemic," he said. "We were consistently working on product development, and we will show three brand new machines."
Excitement builds for important show
Thinking back on all the ConExpo events he helped plan, set up and attend, Kabalen said, "Before it's over, I'm sure I've spent a year of my life at ConExpo in Vegas."
While hand sanitizer and masks may still be an element at the show, the big focus will be on the people and the machines. "ConExpo is always important to us as an American manufacturer of cranes," said Ed Hisrich, with Broderson Manufacturing and Liftking Manufacturing. "We set product development goals based on ConExpo introductions because it is the single largest week for exposure of our products to customers in a three-year period. 2023 is a big year for Broderson with three major product releases at the show."
Hisrich said customers are also excited about travelling to Las Vegas.
"Three years ago, Covid was changing our lives daily during ConExpo, and this year everyone is looking forward to a ConExpo where we can get back to enjoying the show and the people at the show."
Load King's John Lukow said that his company is "super excited."
"This is really the first time Custom Truck One Source has been to ConExpo," he said. "We have a great cross section of all the equipment we offer. I already have several dinners and customer meetings scheduled. Our sales team will be out in force."
He said that Custom Truck CEO Fred Ross is stepping back from his CEO role at the end of March.
"This is also little bittersweet to see all that Custom Truck has become under his leadership," he said. "This seems like a culmination of 25 years of hard work and serving customers."
ACT surveyed hundreds of OEMs and service providers pertinent to the crane, rigging and specialized transportation sector. Following is an overview of just some of the products that will be shown.
Also don't miss our Select list of exhibitors, the most important part of our ConExpo Show Guide. You won't want to miss visiting any of these booths.
CRANES
The AC65E-155S is the latest addition to ALTEC INDUSTRIES' equipment lineup. The machine is a dual-rated solution that offers lifting and personnel platform capabilities.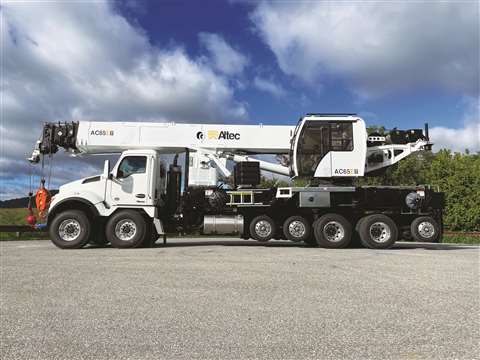 The unit features 130,000 pounds of maximum lifting capacity with 155 feet of main boom length and can reach a platform working height of 215 feet when configured as an aerial device. The machine also features a 12,500-pound hydraulically removable counterweight that increases load capacity at high-radius picks and allows for an easy, one-man installation and removal from inside the cab. Swing-out-and-down style outriggers allow for the machine to be extremely rigid, aiding in operator confidence and providing a solid feel even when at the limits of the load chart. Twenty-two inches of outrigger penetration and four span options provide the flexibility needed to set up on the most difficult jobsites.
BRODERSON will unveil the IC-400-C, the RT-400-B and the ICe-80. The IC400-C is a 25-ton industrial carry deck crane that has been re-engineered to improve maintenance and reduce operator cost. The RT-400-B is a 25-ton rough terrain crane that has been completely re-designed from its predecessor, the IC400-B. And the ICe-80 is a game-changer for the industry. This 9-ton, all-electric carry deck crane is Broderson's first foray into electric cranes and it represents a significant step forward in the company's commitment to sustainability. With zero emissions and improved energy efficiency, the ICe-80 is a crane that is good for the environment and also good for the bottom line.
ELLIOTT EQUIPMENT will be celebrating its 75th anniversary at ConExpo. The company will be highlighting its new E150i 500kV rated truck-mounted aerial with interchangeable booms, 240 degree over center articulation and 30,000 pound material handling capacity. Attendees will also have the opportunity to create a souvenir photo in a virtual platform above the Las Vegas skyline (and other surprise locations). Elliott's sales and engineering teams will be on site to discuss its entire line of HiReach material handling aerial work platforms, boom truck cranes and digger derricks and how they can solve users' work site challenges.
JEKKO will introduce several new products to North America at ConExpo. In the SPX telescopic crawler crane line, Jekko will display the SPX328, SPX532 and SPX650. In the articulated crawler crane line, they will show the JF235, JF545 and JF990 models. In the MPK minipicker line, the models MPK06, MPK10 and MPK20R will be on display.
KOBELCO CRANES will show off three cranes with all new Isuzu engines. ACT saw the new CK1600G-3 in Houston in January. The crane features an Isuzu Model 6UZ1 engine, a 6-cylinder, turbocharged, Tier 4 final engine that provides 362 horsepower. The CK1600G-3 maintains a maximum lift capacity of 160 tons at 15-feet radius and has a favorable load chart to competitors in this class. Also on show will be the CK1600G-3, CK2000G-3 and the CK2750G-3. Launched at the show will be Kobelco's seven crane product line of repowered cranes — the CK 800G-3 (80 ton), CK 850G-3 (85 ton), CK 1100G-3 (110 ton), CK 1200G-3 (120 ton), CK 1600G-3 (160 ton), CK 2000G-3 (200 ton) and CK 2750G-3 (275 ton).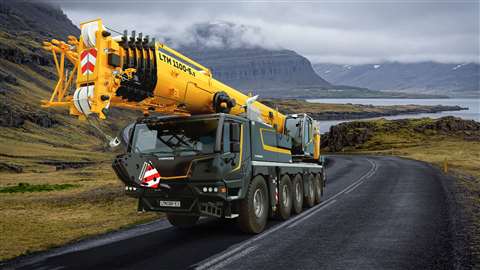 LIEBHERR will have many new cranes on show for the first time to the North American market. Liebherr will show its new 140-ton rough-terrain crane, the LRT 1130-2.1, which offers the highest lifting capacities and the longest telescopic boom of any two-axle rough-terrain crane anywhere in the world, Liebherr said.
It also has the most economical transport dimensions in its performance class. Its telescopic boom is the longest in its class at 197 feet. A 35-foot single folding jib or a 35 to 62-foot double folding jib is available for the LRT 1130-2.1. Liebherr, with some 30 exhibits, will also show its LTM 1100-5.3 all-terrain crane. Described by Liebherr as "the master of all roads," the machine has a 203-foot telescopic boom and a 100-metric ton maximum lifting capacity. It will be on display alongside a range of other Liebherr cranes, including the LR 1400 SX crawler crane, the fast-erecting LRT 1130-2.1 from the K series and the company's largest flat-top crane, the 470 EC-B.
LINK-BELT CRANES will introduce three new cranes, including an all new 300-ton all-terrain crane, the 300|AT and the 218|V crawler crane. The 300|AT features a 46 to 238-foot seven-section latching boom. Attachment options include a 42 to 71-foot two-piece hydraulic offset fly, a 9.5-foot heavy lift jib and two 25-foot lattice fly extensions providing a maximum tip height of 369 feet. With 162,000 pounds of maximum counterweight, the 300|AT has 29,392 pounds of maximum winch line pull. It features a new winch with poured socket termination through flange side clamping on the drum. It has a 384 feet per minute maximum line speed. The crane features a single engine platform utilizing a Cummins X15 diesel carrier engine that is EPA on-highway/CARB On-Road Compliant.
LOAD KING CRANES will show a full line-up of crossover cranes including the 50 and 60-ton version of the crossover platform to accompany its 80-ton crane that debuted in 2020. The crossover product line shares the same formed boom shape, same control system and the x-pattern outriggers.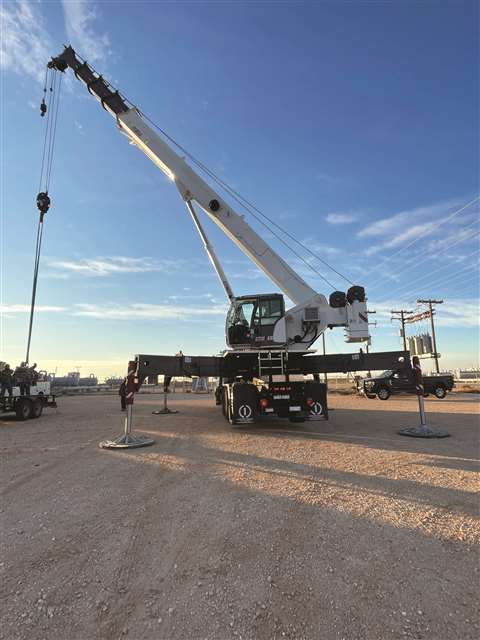 The Load King booth will feature the company's first crane simulator, a joint venture with ITI. This intuitive crane control system, developed in-house, provides control and flexibility for operators, all from a touch-screen interface. Since purchasing the assets of Terex Cranes, Load King has developed five new crane platforms and six derivative products for a total of 11 new market entries.
Load King is a subsidiary of Custom Truck One Source (CTOS). The CTOS support network consists of 35 company branches and 40 service centers across North America. Cranes are all backed by a two-year basic and a five-year structural warranty. The 218|V is the fifth generation of the 218 family of cranes that started in 1987.
MANITEX INTERNATIONAL has been working hard on new product development, and the company has plans to show off a whopping 19 pieces of equipment to customers in Las Vegas. The element of surprise is a big focus for Manitex, which has plans to roll out several all new cranes.
Manitex International will show equipment representing the Manitex boom truck, Valla, PM, Oil and Steel and Rabern Rentals brands. Manitex is promising to "go green" at ConExpo, and there will be "a big reveal" on opening day. The company will feature its track-mounted aerial work platforms, five truck-mounted cranes, including the TC50155HL, configured for power line construction with A92.2 dual rating, aerial work platform and remote controls.
Also on show will be the 50-ton TC50128X and the 65-ton truck mounted TC65159.PM will show its PM-210 knuckle boom as well as a PM 38.5 mounted on Pete chassis. Oil & Steel will show the A62 truck-mounted aerial work platform, and the AL68E-Zero emission tracked-mounted AWP. Valla will show its V25 zero emission industrial walk-behind pick and carry crane, Valla V40 zero emission industrial walk-behind pick and carry crane and the Valla V90R zero emission industrial walk-behind pick and carry crane.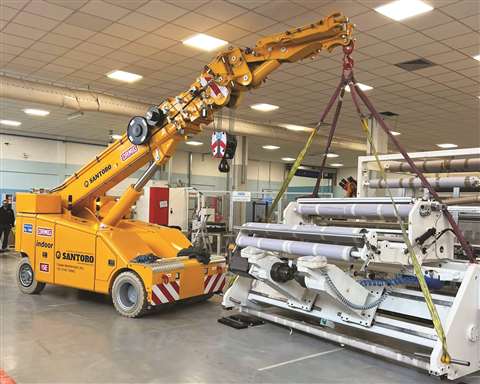 ORMIG's 15iE is fully radio-controlled and compact in dimensions. The 15-ton capacity machine was conceived and designed to operate mainly indoors and in confined spaces. The width is 1.84 meters, and the height is 1.9 meters. The wheelbase, almost corresponding to the steering radius, is just 2.85 meters. To make it easy to transport, the weight of the crane without the counterweights is 13 tons. The Ormig 15iE has four ground support points to ensure lateral stability. This is a key to all Ormig cranes to allow the operator to work in the utmost safety in stable conditions while traveling with the load applied.
TADANO will reveal its new product line-up at the beginning of ConExpo. The American audience will get to see for the first time the compact and powerful AC 4.070-2. With a main boom length of 164 feet, it can lift a good 8 tons at a radius of 32.8 feet, Tadano said.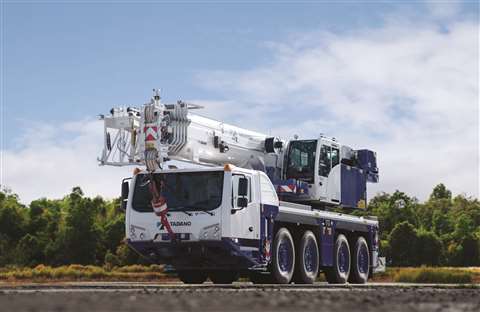 The AC 4.070-2 can transport its maximum counterweight of 13.1 tons by itself while staying within an axle load limit of 13.2 tons, and it can still manage an impressive 4.6 tons when the axle load is reduced to 11 tons instead.
TEREX ROUGH TERRAIN CRANES will display its new 40-ton capacity TRT 40US, which expands the Terex RT offering following the launch of the TRT 80US and the TRT 100US. The TRT 40US has a synchronized, four-section boom that gives the operator the best lifting performance, regardless of the boom length.
With a machine width of 8.2 feet, the crane can be easily maneuvered, even on congested jobsites with narrow or confined areas. Maneuverability is also enhanced by having four steering options. The TRT 40US is equipped with a Cummins 4-cylinder engine, bringing high power and optimized consumption, thanks also to the Eco Mode function. The TRT 40US is compatible with Cummins QSB4.5 Stage IIIA - Tier 3, Cummins QSB4.5 Stage 5 - Tier 4F to meet different regional needs.
ZOOMLION HEAVY INDUSTRY will feature its ZRT1100, which features a 160.7-foot telescopic boom. Its telescoping system consists of a two-stage hydraulic cylinder with a rope extension mechanism. The new generation operator cab can be tilted backwards for maximum comfort and ease of operation, reducing operational fatigue. It is also equipped with a push front window and a panoramic sunroof, providing better field of vision for the operator. Zoomlion said industry standard parts are used to produce the crane: AxleTech brand axle, DANA 13.5HR 32662 transmission, Cummins QSB 6.7 diesel engine and Hirschman HC4900 LMl (load moment indicator).
TOWER CRANES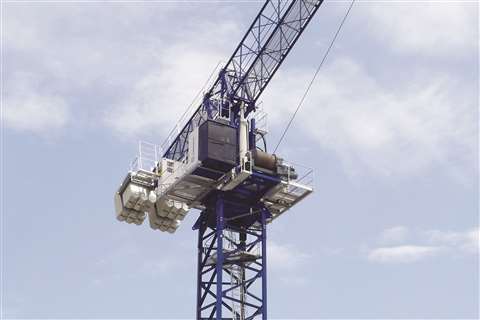 COMANSA will show for the first time in North America the LCH300, its first hydraulic model, with a maximum load capacity of 16 metric tons and a reach of 60 meters. The LCH300/16t is available in various versions: embedded, supported on bases of 6 or 8 meters, or movable. The crane can be assembled with 2.5 by 2.5 meter tower sections. Its modular jib has a reach of 25 to 60 meters, with configurations every 5 meters. It has a minimum working radius of 4 meters and a minimum radius of 9 meters when out of service. This new luffing jib crane from Comansa incorporates the award-winning CUBE Cab (L or XL) with Split type air conditioning. The cabin platform, like the lifting and hydraulic unit platforms, can be transported in a single piece.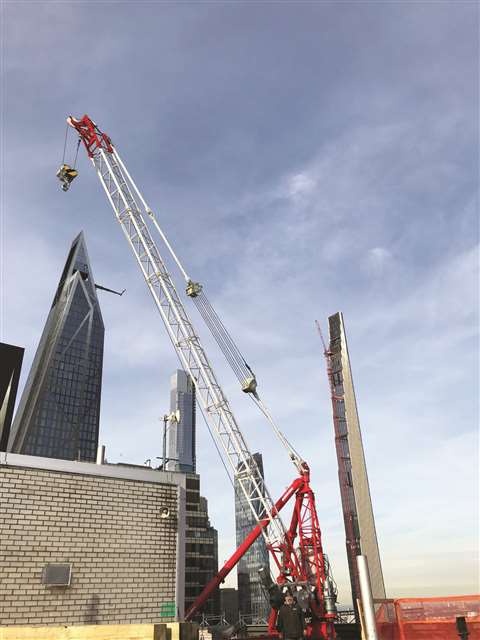 JASO will show its derrick crane, the JASO J1920.DC. Jaso will also show the J780PA.60, a tailor-made crane that was fully developed by the Jaso engineering team. It features an optional fly job and the SMARTLINK Industry 4.0 system. It also features the ECO Mode system for energy saving. The Jaso J780PA.60 includes the latest technologies and a JL25 hoist to give operators easy access to the tower. JASO will discuss its new tower crane models, the J235.12 flat top and J390 low top.
TRAILERS 
With the new HighwayMAX All-In-One as a world premiere, the FAYMONVILLE GROUP brings the modular trailer philosophy for on-road projects to the U.S. It is a concept where operators can configure different trailers from one single modular kit.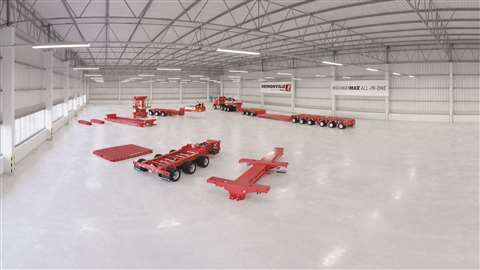 The concept allows use as a 3+6 double drop combination, as an extendable single drop trailer with nine axles or – with additional nitro booster – as a 12-axle vehicle. A configuration as a tower adapter vehicle is also possible. And the entire range such as excavator decks, transformer decks and perimeter decks can be integrated in the double drop version. A clever and future-oriented concept that is looking for its equal in North America.
The competence center for self-propelled vehicles within the FAYMONVILLE GROUP is COMETTO, which is bringing two self-propelled vehicles to Las Vegas.
The 6-axle Eco1000 is distinguished by the fact that its Power Pack Unit is integrated under the loading platform. As a unique manufacturer on the market, Cometto offers three different Power Pack technologies, traditional propulsion technology for continuous performance, hybrid or the electric solution. This underlines the innovation potential at Cometto and gives more possibilities to the customers. With the Eco1500, there is another type available to reach a new level with the highest available payload capacity on the market, 1,500 tons.
GOLDHOFER's STZ-VL double drop semitrailer, among other transport equipment, will be in Vegas. The STZ-VL are designed for fast and easy front-end loading and will handle very high payloads. An additional pin-on flip axle brings greater flexibility and payload as well as the adaptability to operate across state lines with differences in heavy haul regulations.
NELSON MANUFACTURING COMPANY will be unveiling its all new BLXLT line of boom launch trailers. This completely reimagined boom launch trailer weighs 8,000 pounds less than Nelson's standard BL models.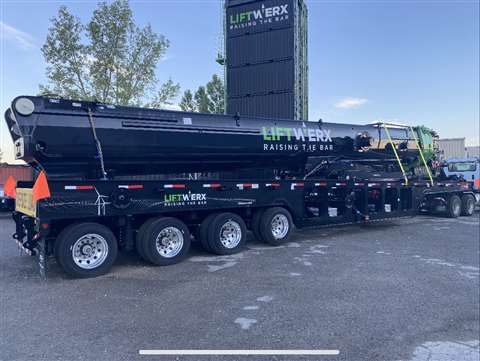 The new design will allow for heavier booms to be launched on standard tri-axle and quad axle configurations. The BLXLT will eliminate the need for booster axles and front jeeps in certain applications. The moveable rear saddle allows for greater adjustments in axle weight distribution to meet the needs of your regional requirements. Self-contained power units, hydraulic levelling legs, side shift capabilities and an overall robust design are standard. Modularity is built into the trollies to allow for quick and easy conversions to handle various crane booms.
Several new construction products will be shown at the TRAIL KING stand, including the monster 170 hydraulic detachable trailer. Designed for multiple load configurations, this trailer is what heavy haul is all about. Trail King focused on updating the materials hauling construction products this past year. The live bottom is better than ever – unloading in one revolution or less while also maintaining high levels of maneuverability. The steel side dump provides a smoother, simpler dumping process. Trail King's bottom dump is lighter than ever, allowing construction customers to haul even more payload. Stop by the booth to get your eyes on this heavy metal.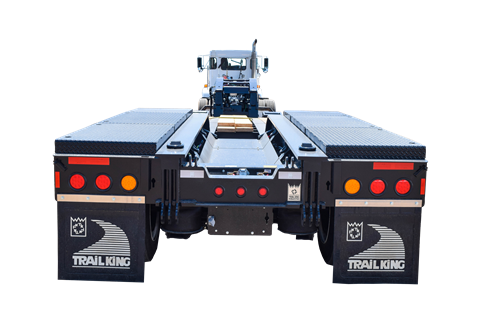 GROUND STABILIZATION
BIGFOOT will launch its new product line, "American Armor" steel crane mats. American Armor is JDS: Just Domestic Steel. Made of high-grade American steel, engineer certified, and built in standard or custom sizes, "American Armor" is designed to handle cranes from 200 to 500 tons. Every "American Armor" Steel Crane Mat comes with lifetime customer support, a 20-year warranty, a 20-year internal rust warranty. Bigfoot's Steel Crane Mats are engineered to meet and exceed AISC Load Resistance Factor Design. All welding is done by American Welding Society (AWS) Certified Welders and all welds meet the requirements of AWS D1.1 Structural Welding Code, an American National Standard.
Steel identification tags are welded to the mats so there is no more guessing the weight, capacity or serial number. American Armor mats are designed to be light weight and high strength, making them easier and more cost effective to transport. Integrated lifting lugs are designed for fast and easy rigging, allowing the user to lift a stack of four mats from the bottom mat's lugs.
Complementing DICA's FiberMax Crane Pads will be the next generation of engineered crane pad. The new crane pad meets demand for durable, long-lasting support for a lower price, the company said. Following the company's announcement in November of the acquisition of SlatTrax Ground Protection and Temporary Access Road products, DICA will introduce additional products in its ground protection and cribbing product lines. DICA will also debut its new Cross Lock outrigger pad system, which is designed with the challenges concrete pump operators face daily. The small outrigger floats on concrete pumpers create highly concentrated pressures that can easily lead to accidents. The new system utilizes a multi-pad set up and is engineered to structurally distribute the high-pressure loads over a much larger area.
TECHNOLOGY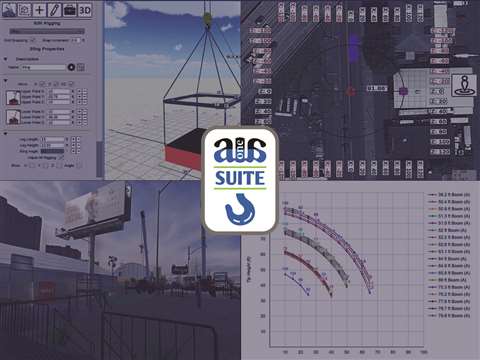 A1A SOFTWARE will release a variety of stand-alone lift planning tools in the A1A Product Suite, and it will introduce a new version of iCraneTrax. The lift planning and asset management tools are designed to help people with different roles in the crane supplier's organization to be functional at various levels with as little or as much complexity as the role requires. The A1A Product Suite will include such apps as SketchPad, which eliminates the need for paper when gathering preliminary jobsite information. Crane Search provides a quick search of the cranes available in your fleet to determine which ones are best suited to the project. Load Chart Viewer provides the ability to overlay load chart data for visual reference of capacities and range diagrams. Crane Loads Calculator helps determine maximum outrigger loads. Mat Calculator is used to select crane pads and outrigger pads for the lifting scenario.
The newest version of iCraneTrax features improved admin interfaces, greater drag and drop functionality, better integration with accounting programs, and more. iCraneTrax helps companies best utilize its human and equipment assets to maximize profits.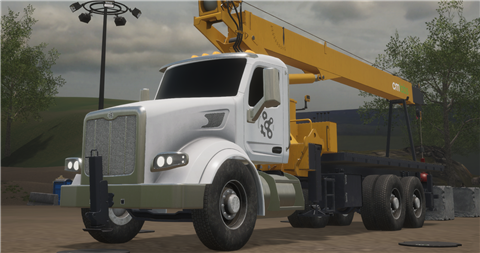 CM LABS SIMULATIONS, the only simulator developer to incorporate physics-based Smart Training Technology (STT), will show the successful use of simulation training and testing for crane operator certification.
HOISTCAM by Netarus is a high-definition camera system designed specifically for construction and industrial applications where operators are working in the blind. The camera is mounted on a hoist, crane or piece of heavy equipment and allows operators to see a live real time feed of the load and surrounding area from the cab that they would not normally see.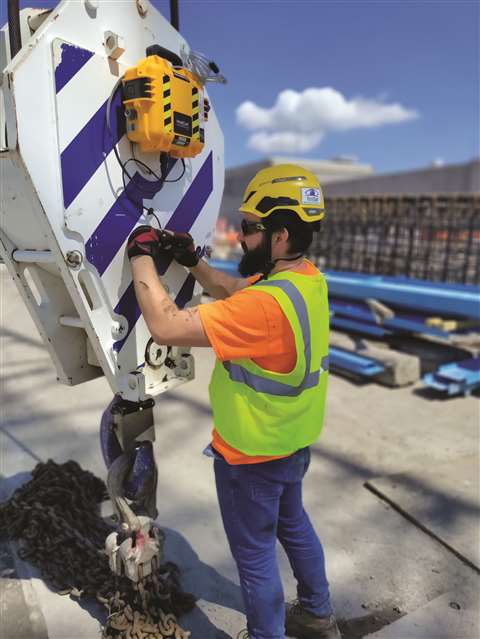 The newest features of HoistCam are its high-definition (HD) capability. The camera can do what no other purpose-built operator aid camera can do in the industry: transmit a high-resolution video in 1080P with HDMI output, point-to-point in near real-time, encrypted, frequency hopping signal for deployment anywhere in the world. The camera system also includes advanced features such as low light/night vision, and pan, tilt and zoom capabilities on selected models. These features allow operators to maneuver the load easily and accurately, even in difficult-to-see conditions.
RAYCOWYLIE will be unveiling the i5000, which reaches the highest level of integration with any type of crane and heavy equipment in the industry, the company said. "The state-of-the-art design was achieved by virtue of decades of experience and a thinking process aiming to revolutionize user experience," RaycoWylie said. "Its enhanced features allow advanced integration and superior level of quality." Single-function interfaces are a thing of the past. RaycoWylie's new application allows monitoring and controlling a complete array of options such as camera views, engine data, greasing systems, radars, wireless and CAN bus sensors and TPMS.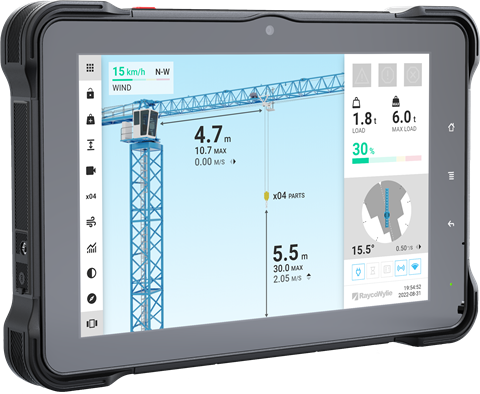 Their new technology platform is designed around a high-performance computing control unit which allows the use of multiple-sized robust, high intensity touch screen displays.
WIKA MOBILE CONTROL will introduce the new CTL-S700 series of safety controllers. These controllers offer many interfaces and I/Os for safety-relevant machine control tasks and can be used in safety-critical applications. Available in four different configurations, the CTL-S700 series offers up to 64 inputs and 56 outputs providing versatility for a variety of applications. These cost effective controllers feature CODESYS 3.5 SIL 2 programming and a data logger that collects all relevant operating data. Multiple CANopen safety and Ethernet interfaces are also available. Controllers from the CTL-S700 series are equipped with a 300 MHz Aurix TC299TX processor, up to 64 MB flash, 2.7 MB SRAM and 32 kB FRAM.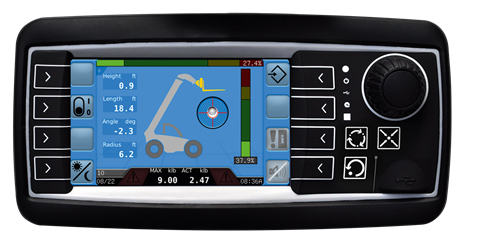 With an IP66/67 protection rating, a robust cast aluminum housing and high shock and vibration resistance, these controllers are designed for use in harsh environments making them a perfect fit for mobile cranes, telehandlers, MEWPs, forestry equipment and other mobile machine applications. WMC's product line also includes load moment indicators, wireless/wired load, angle and anti-two block systems for lifting equipment. WMC will have several new products on display at ConExpo including the new qSCALE I2 TH rated capacity indicator system for telehandlers, CTL-S700 safety controller and cSCALE Compact controller for mobile machines. These systems and sensors meet OEM & retrofit requirements in lifting applications.
COMPONENTS
For the new Altec AC65E boom truck, BRADEN PACCAR WINCH designed innovative components such as the top-of-class hydraulic planetary hoisting equipment, including a high-capacity Braden 15,000 pound 2-speed piston winch. This new system will be demonstrated at the Altec stand.
TWG will be showcasing its MG6 LMI system which features TS7 glove touch display that is outdoor IP67 rated. Greer has developed RCI and LMI systems for thousands of crane models for Link-Belt, Terex, Mantis, Broderson, Manitex, Badger, Elliott and Altec. The MG6 continues the support of previous generation RCI510, LMAP and MG586 systems. The MG6 LMI system has added Wi-Fi capability for troubleshooting and software updates with smartphones and tablets, Greer Intelligence motion detection and video recording and wireless ATB (BP 601) for retrofitting existing ATB switches.