A magic solution for crane wheel removal
The Rim Wizard from Finnish company of the same name, Rim Wizard Oy, is designed to remove stuck wheels on mobile cranes in just a few minutes.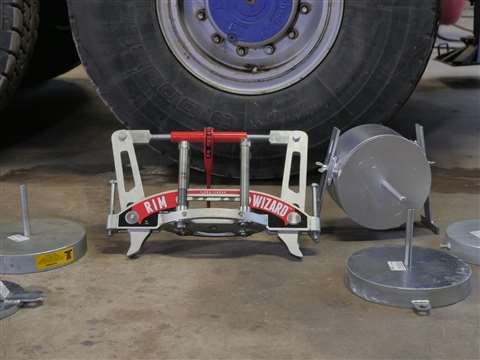 The kit includes four hubs for use on cranes from a number of different manufacturers including Liebherr, Demag, Grove, Terex, Tadano Faun and PPM. According to the company, the patented system is simple to use. Users place the Rim Wizard in the centre of the hub cover and as its bolts are tightened it pulls the wheel off evenly. In this way, claimed Rim Wizard Oy, the wheel can be removed without the risk of damage in just a short time.
The device can also be used for changing dried or rusted air sealing O-rings on the wheel. The company said the O-rings can also be changed within just a few minutes without users taking the wheel off. Instead users remove the air from the wheel, push the lock ring in, clean the rim, and place the new O-ring on. When filling tyres with air the company said the Rim-Wizard will protect the mechanic by preventing lock rings from coming off. The Rim Wizard is small enough to be kept in the crane, the company added.