A&P Grain chooses Link-Belt for dryer lift
At Gensler Family Farm in Illinois, USA, A&P Grain used its new Link-Belt 75 ton HTC-8675 Series II hydraulic truck crane to lift a 17,000 pound (7.7 tonne) dryer. It can dry up to 4,000 bushels of #2 shelled corn an hour. The farm has a storage capacity of 654,000 bushels of corn to better handle market fluctuations.
"I tell people we do agricultural construction, primarily with grain systems," explained Dave Altepeter, A&P Grain Systems owner. "We design, do the dirt work, pour the concrete, build the bins and service grain systems in Illinois and Iowa. We do all the work ourselves."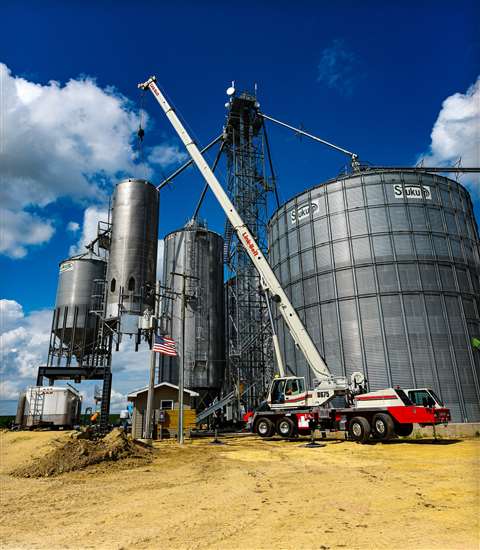 Altepeter began researching different cranes, and settled on a Link-Belt because of its low profile look, and compactness.
"While going down the road, I didn't want it drawing a lot of attention as being an oversize machine or possibly an overweight machine," he said. "I wanted to keep it under 80,000 pounds [36 tonnes] which is the legal limit on Illinois highways. The 75 ton hydraulic truck crane is about 78,000 pounds if we take everything off when we transport it. So that fit for us."
A&P is now replacing a 12 foot (3.7 metre) diameter, 240,000 bushel capacity tower dryer with a larger stacked 4,000 bushel an hour mixed flow dryer.
"The older dryer is 86 feet [26 metres] tall and will be taken out in two sections," said Altepeter. "The first section will be 46 feet [14 metres] tall and weighs approximately 17,000 pounds, depending upon the residue in the dryer. We will swing it 260 degrees at the same height to go over any obstructions and then lower and anchor it to an existing 72 foot [22 metre] diameter grain bin until we take it away."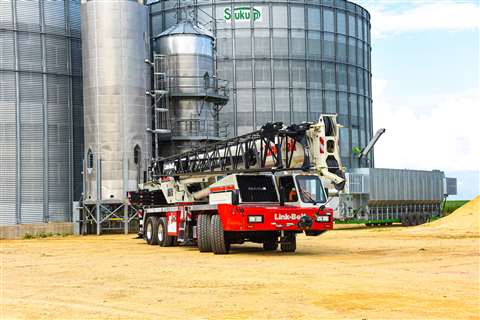 A&P Grain built the Gensler family farm's initial system in 2010 and over the years has added two 207,000 bushel bins, two 120,000 bushel bins, and a 30,000 bushel wet bin