A-Plant's auto-tool cabin makes savings for Skanska
By Sarah Ann McCay24 May 2012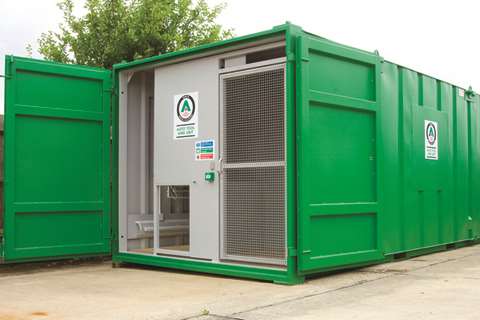 Contractor Skanska UK has reported significant cost savings from its recent trial of the A-Plant Auto Tool Hire Unit (ATHU) on-site on its ongoing London Underground.
The contractor took delivery of the un-manned tool hire cabin in November 2011 and began using it in December. The job requires emergency cover 24 hours a day, and so needed a robust, durable and reliable source of equipment as and when required.
A-Plant said a Skanska cost-analysis revealed that the cabin led to a 57% reduction in carbon footprint in terms of miles travelled for deliveries, collections, breakdowns and exchanges.
The unit gives Skanska access to equipment without spending time waiting for equipment to arrive, with no phone calls to make or paperwork to raise at the point of on/off hire, and no collection or delivery charges.
A-Plant's ATHU, launched in 2010, is delivered direct to site and stocked with equipment according to the site manager's requirements. Access is gained to the unit by presenting a swipe card, while CCTV records all activity inside the unit. The unit stores a variety of equipment, with each item tagged using RFID technology.
Ian Collins, site manager for Skanska Infrastructure Services said; "I fully endorse the Auto Tool Hire Unit as it quite clearly shows by means of e-mail, text and video who took the plant out on-site. As such we have not lost any plant from the unit."
As equipment is taken from the shelves the RFID automatically registers it and it is placed on hire. The software programme monitoring the RFID tags links the contract number to the piece of equipment, as well as the date and time it was hired. When the equipment is placed back on the shelves the return is registered and a hire report is produced.
Using A-Plant's extranet system customers can check online and in real-time what is being hired from the unit and the costs incurred. The ATHU also keeps customers updated by email and text message.