A solid 2016 forecast
By Helen Wright12 February 2016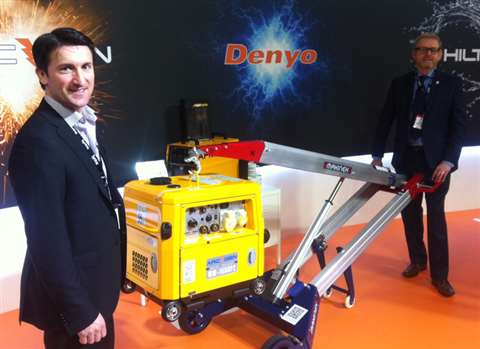 Senior industry figures have reported positive developments in the UK rental market and beyond, and forecast solid demand from rental buyers in 2016, at this year's Executive Hire Show.
This year marked the 10th anniversary of the Executive Hire Show, which took place on the 10th and 11th February at the Ricoh Arena in Coventry, UK.
For instance, Chris Morris, chief executive at Morris Site Machinery, said, the company was forecasting strong growth for the coming financial year.
"We have just hit last financial year's turnover with seven weeks to go until the end of our 2015 year, so we are expecting to report growth. And for the coming financial year, we are seeing high demand for our products even outside of the traditional buying seasons – so everything that is coming off our production lines at the moment is already sold.
"The last three years we have seen just over 10% growth year-on-year, and we are forecasting 20% growth in 2016."
And Morris Site Machinery managing director Phil Winnington added, "Construction is a big driver of course, but other sectors are growing too - events is a huge sector, for example, where the use of sustainable equipment is a key target. We are also looking to double our development capacity in terms of our design and innovation team."


Similar to 2015


Meanwhile, Dan Thompstone, UK and Ireland sales director at JCB, said the company was expecting a similar market to 2015 this year. "Growth in the construction industry will be driven by house-building, but the challenge for the rental market is that the big companies added a lot to their fleets last year, so we will see if the appetite is still as large in 2016. But the fundamentals are strong, and we expect a good year on the whole."
And mini excavator specialist Hanix Europe managing director Paul Clarke said, "We are building up the business from the UK outwards, and we now have 12 dealers in the UK and Ireland with a few across Europe to.
"We think 2016 will be a flat year, perhaps with some growth. We are seeing a lot of demand from end-users and contractors at the moment, but we are planning an 8 tonne launch this year which we think will be more appealing to rental buyers."
Cummins general manager for rental, telecoms, Europe and Russia, Gary O-Shaughnessy, said the company expected 2016 to be a better year than 2015, with stronger demand from rental buyers. "Rates are not changing, however, and it will be interesting to see how the rental market absorbs the changing costs of gensets as we move into new phases of emissions legislation."
And Firefly chief commercial officer Huw Bement said the company was excited about prospects for 2016. "We are in discussions with major UK and European rental companies, and are in the advanced stages of validation for our hybrid generators.
"We think the market is changing and sustainability is higher on the agenda than ever before for end-users, with contract awarding authorities starting to favour, or even stipulate, bids that include the use of hybrid generators and equipment. We have seen our turnover double every year for the last three years, and we don't' expect that to change in 2016."


Rental partners


John Spencer, national sales manager at Avant Tecno UK, said the company now had 24 rental partners – a number which was growing all the time - as well as 16 dealers in the UK. "Avant machines aren't niche, but can diversify into many different sectors so rental companies can get higher utilisation from them. I think 2016 is going to be a strong year for rental demand."
Hamm sales manager Julian Green forecast stable demand year-on-year from rental companies. "But this is no bad thing – the market is seeing seeing lots of housebuilding projects and some major infrastructure projects get off the ground. As a result, we forecast steady demand from rental companies for the year."
And Head of global key accounts at Western Global Murray Leflaive said the company was expecting very strong orders from the UK and Europe in 2016, with more moderate demand – but still growth- in North America. "The power rental market is experiencing growth around the world," Mr Leflaive said. "And there is lots of potential still, looking to Africa in particular."


CPA open meeting

Meanwhile, The UK Construction Plant-hire Association held an open meeting discussing machinery security and other subjects at the Executive Hire Show. During this event, Kevin Howells, managing director of Datatag, updated delegates on the progress of the Micro Cesar Scheme.
Security tag producer Datatag has been trialling the new -theft system for small tools and equipment dubbed Micro CESAR for a few months now. The larger version of the scheme, CESAR, was launched in the UK in 2007 and is said to have contributed to a 70+% reduction in the theft of large construction equipment since.
Micro CESAR features a unique radio frequency identification (RFID) tag and a warning/registration label with an integrated QR code. The tag was planned to have the same effect that the original CESAR Scheme has in deterring the theft of larger construction equipment and assisting in recovery.
"We piloted the Micro CESAR scheme between March 2014 and March 2015," Mr Howells said. "We now aim to get manufacturing partners on board to factory-fit Micro Cesar security chips and tags -we are developing the scheme at a very low cost. The microchips also have the advantage of enabling digital asset management at the same time."
This is just a snapshot of sentiment at the Executive Hire Show, watch out for upcoming issues of IRN for more product news. To view more images, click on the picture in this article - this will toggle the gallery.