ABLE provides Genie scissor for Kobe mural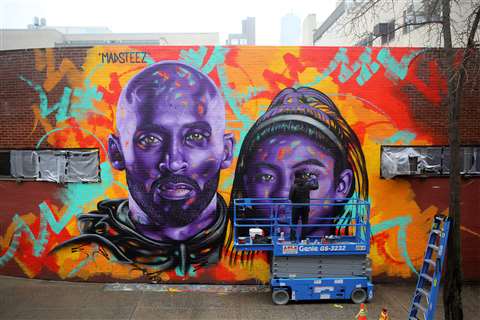 Brooklyn-based artist Mark Paul Deren recently completed a large portrait of legendary basketball player Kobe Bryant with his daughter Gianna in NYC's Chinatown. Deren, who goes by the artist name Madsteez, said the organization East Village Walls served as the curator for the Sun Yat Sen Intermediate School in Chinatown, where the mural honoring Bryant is located.
East Village Walls curated the mural for the school after the students voted on what should go on the wall space. East Village Walls reached out to Deren because they knew of his previous relationship with Kobe Bryant; the artist had previously created a Bryant skateboard mural in Newport Beach, CA that was commissioned by Nike.
ABLE provided the Genie GS-3232 scissor for the NYC project, which is based off a photo by photographer Atiba Jefferson.