Acces Industrie expands Genie hybrid fleet
By Euan Youdale18 November 2020
France-based rental company Acces Industrie has added 15 hybrid Genie boom lifts to its fleet.
The order included a further five 20.1m working height Genie Z-60 FE booms lifts, plus 10 new 15.92m working height Z-45 FE booms.The company now owns 34 Genie fuel-electric (FE) hybrid models.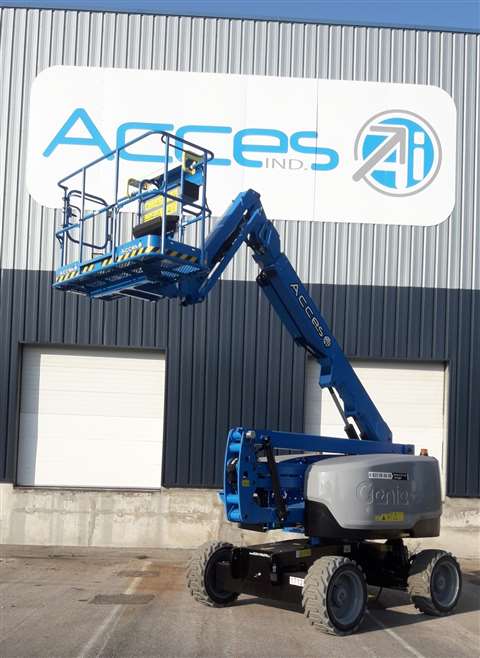 As Access Industrie managing director Pascal Meynard, explains, the company has initiated a Genie hybrid boom lift training programme. He previously commented, "The market is sensitive to these new developments in terms of ecology. It's up to us to educate the market, providing information and promoting the product, in collaboration with Genie."
Émilie Robert, marketing and commercial services director, Acces Industrie, further explains the company's approach, "Ecology is a central issue, a real challenge for the coming years. Companies should be aware of the need to be the first to comply with environmental standards, or even to be forerunners in this field."
She added, "We also chose Genie hybrid booms because, from a rental sales perspective, these are models that are easy to rent because they can be operated from start to finish and can adapt to jobsite constraints. Keeping in mind the price of fuel, these Genie booms also offers a good cost to price ratio."
According to Robert, the FE booms are in line with Acces Industrie's eco-responsible strategy. "It starts with initiatives within our company itself, such as reducing waste by eliminating disposable plastic cups, choosing FSC/PEFC certified printer suppliers for example, and the project of collaborating with an ecologically focussed association. As part of this strategy, it seemed logical to transpose the same approach to our rental fleet and sales offering," she said.
The new Genie hybrid booms will be rented mainly for applications in city centres and for urban projects because they fully comply with the various standards and constraints. The company's 10 new Genie Z-45 FE models are available for rental through Acces Industrie branches in the Paris region and the city of Lyons.