Accès Industrie makes Spanish acquisition
By Euan Youdale07 February 2022
France-based Accès Industrie has moved into Spain with the acquisition of rental company Uping Acces.
Uping, which is based in Barcelona, has a fleet of 400 machines, including scissor lifts, boom lifts and vehicle mounted platforms, ranging from 8m to 40m working heights, as well as forklifts and lighting towers.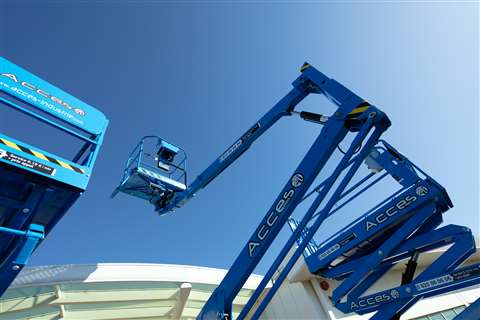 The move into Spain by Accès Industrie will add the company's three branches in Catalonia, 22 people to its workforce and strengthen its existing fleet of more than 9,700 MEWPs and forklifts.
In 2020, Paris-based private equity company Equistone Partners acquired a majority shareholding Accès Industrie from previous private equity owner Parquest Capital, and said there were plans for continued expansion.
Following a significant order of Snorkel lifts last year, Pascal Meynard, CEO of Acces Industrie said, "Despite the challenges of 2020, Accès Industrie remains committed to our long-term growth plan."
The 327 Snorkel lifts included electric slab scissors, 70 push-around mini scissor lifts, and 12 electric articulated boom lifts. The France-based company has also been boosting its environmentally friendly fleet, with a growing number of Genie Z-45 FE hybrid articulating boom lifts, the most recent being 20 units delivered in the fourth quarter of last year.
Now, the company is set to expand its growth plan beyond France, and into Spain. In a statement about its return to the Spanish market, Accès Industrie said, "With this acquisition, Accès Industrie marks its return to Spain and will rely on Uping for its development [there]. This operation marks a new stage in the group's policy of voluntary external growth, which the management wishes to pursue in the years to come."