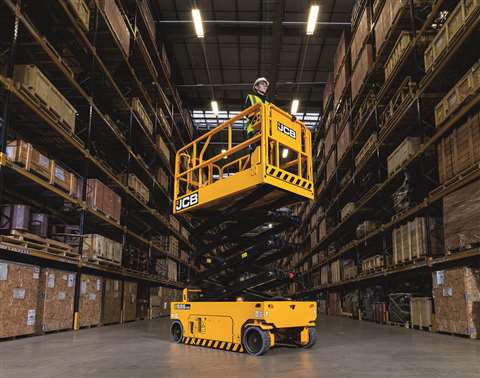 JCB recently made waves in the powered access market, with the launch of nine electric scissor models at the company's headquarters in the UK.
The company said by the end of the year it would have as many as 27 scissors, plus articulated and telescopic booms. The move is geared towards taking a slice of a market in which JCB believes 130,000 units a year are sold annually, generating a revenue of around $8 billion.
Richard Butler, managing director of JCB's access division, said the move into access was "a logical extension," adding, "We had been busy growing our product range over the years in the construction and agriculture sectors, but the noise escalated – the number of customers who said, 'you should be in this sector because it has so many synergies with products you already supply'. It was a no-brainier in reality, and we set about it."
All of the new JCB products will be produced in China, following the trend of other access manufacturers, and the company has a dedicated production line there, but not in its own factory, although it seems likely that will come in the future.
The scissor lifts already on the market weigh between 1,330kg and 3,366kg. The two smallest models (S1530E & S1930E) have platforms measuring 1.64m long by 0.76m wide, while all larger models use a 2.5m long platform, apart from the largest S4550E model which has a 2.64m long working area. The machines are rated for basket capacity from 227kg to a maximum of 550kg.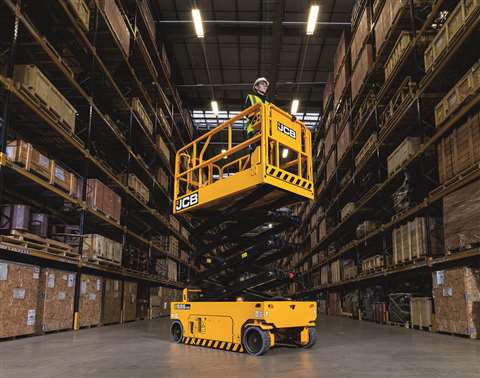 The electric scissors are powered by four 6V or 12V batteries, with hydraulic drive. Three diesel models will be introduced later in 2017.
The new JCB Access products will initially be offered in the UK, France, Germany and North America and will all have been certified by TUV.
JCB's 770-strong dealer network, in 2,200 depots will play a major role in its venture, and has been undergoing full sales and service training, while its LiveLink telematic system will be incorporated as standard on all booms, and available as an option on the scissors.
In short, access companies have been put on notice that a serious new player has entered the market.
And it's a market that, against a backdrop of challenging economic conditions, is doing pretty well.
For example, the Industrial segment of Linamar, primarily made up of Skyjack, reported sales growth of 1.5%, or $2.2 million, to $144.7 million in the fourth quarter of 2016, compared with the same period in 2015.
The segment's operating earnings also experienced an impressive quarter, with an increase of $4.3 million or 21.2%, to $20.3 million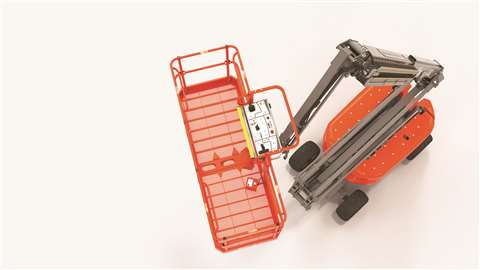 The new SJ85 AJ articulating boom fills out Skyjack's offering in the core 12m, 18m and 24m boom classes
This was due to increased scissor sales, thanks to market growth in Europe and North America; along with an increase in scissor market share in Asia.
The company unveiled its new SJ85 AJ articulated boom at The Rental Show in Orlando, US.
The new SJ85 AJ articulating boom fills out Skyjack's offering in the core 12m, 18m and 24m boom classes. The SJ85 AJ offers a platform height of 25.9m and up and over clearance of 10.36m, dual capacity rating of 227 kg / 340 kg.
Skyjack's aim to provide a full range of telehandlers over the last 18 months has also seen it make serious inroads in that product sector, despite a softer market in North America.
This was partially offset by decreased booms sales due to very soft market conditions for this product in North America and Europe.
On an annual basis, the industrial segment's 2016 operating earnings were $156.2 million, up from $145.2 million.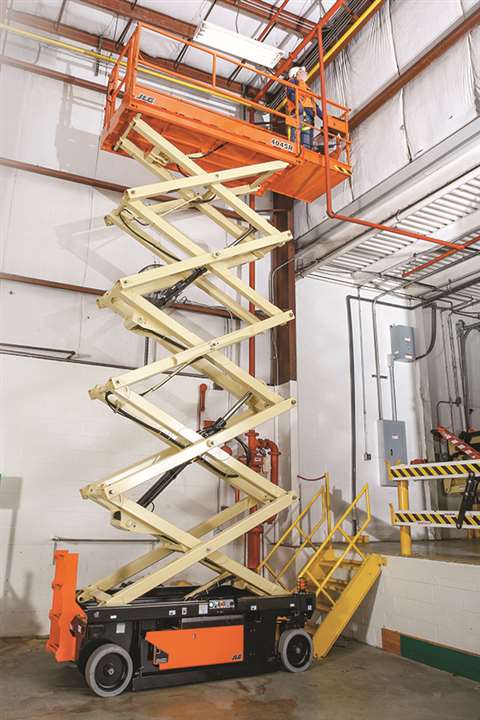 Across the Linamar group, sales increased 16% over 2015 to reach $6 billion; operating earnings increase 17% over 2015 to reach $696.8 million.
Linamar CEO, Linda Hasenfratz, said, "The fourth quarter was another fantastic quarter for us – our 22nd consecutive quarter of double-digit operating earnings growth, a record we are very proud of.
She added, "Consistent sustainable growth is a key element of Linamar's story, as is the enormous markets we are focused on which just keep feeding our backlog to drive continued growth in the future."
As well as solid results from access companies in general, many of the major players are bringing an array of new machines to market.
Possibly the biggest company in the access sector is JLG, which recently showcased a host of new equipment at ConExpo in Las Vegas, including high-capacity telehandlers, narrow electric scissor lifts, hybrid and redesigned boom lifts.
The company's latest hybrid model, the H800AJ, leverages the design of its standard 800AJ articulating boom. The only significant difference between the two is defined by the power package and batteries.
Going electric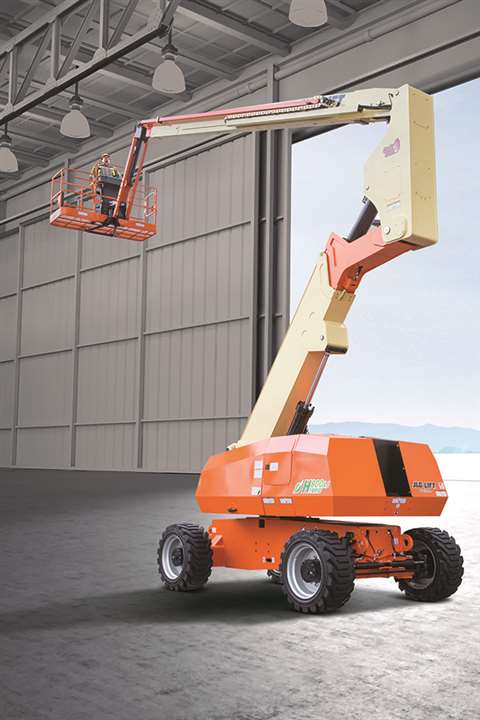 The JLG H800AJ uses parallel hybrid technology, boasting a powerful electric motor/generator and a Tier 4 Final fuel efficient engine. Together, the motor/generator and engine combination provide diesel-like performance. The machine can also run exclusively in electric mode through its battery pack located in the counterweight. These batteries are maintenance free and charge on demand by the machine's generator during operation, resulting in reduced noise and zero emissions, making the machine ideal for work in city, green and low emissions zones.
The platform height of the H800AJ is 24.4m with an unrestricted platform capacity of 226.8kg.
The two new high-capacity telehandlers, the JLG 1644 and 1732, will be available to North and Latin America customers in May. As the nomenclature would state, the 1644 will be a 7,257kg capacity unit with a lift height of 13.4m, while the 1732 will be a 7,711kg telehandler with a 9.75m lift height.
John Boehme, JLG's product manager for telehandlers, said, "Not only are these machines the first JLG telehandlers in the high-capacity category, but they are also the first telehandlers in North America with SmartLoad Technology…an advanced bundle of three integrated technologies that work together to deliver a greater level of operator confidence."
JLG also debuted two new electric scissor lifts, the 4045R and 1532R, which will be available globally mid-2017.
The 4045R, which features a 12.2m platform height, is the first JLG electric scissor lift to feature side forklift pockets.
JLG said the 4045R is one of the only scissor lifts in its category with both an indoor and outdoor rating. Operators can drive the machine at full height indoors and at a maximum 8.53m outdoors for enhanced versatility.
Like the 4045R, the JLG 1532R features compact dimensions, including an 813mm machine width. The unit has a platform height of 4.57m and platform capacity of 272kg.
New features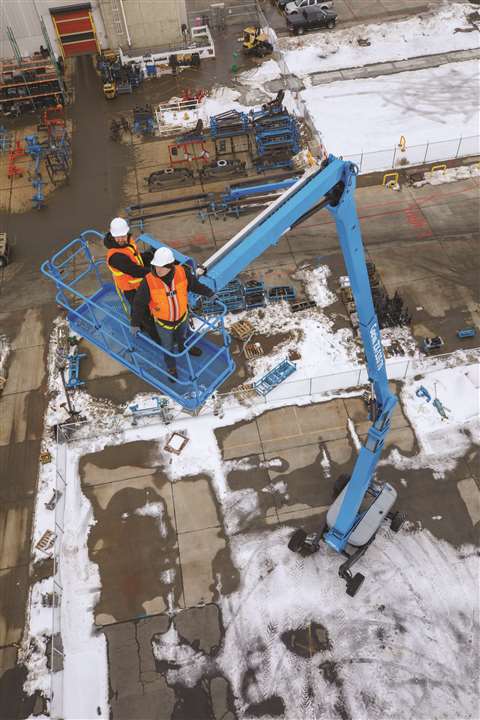 Features on Genie's SX-125 XC booms include 24.38m of outreach and the ability to work 2.69m below grade
Another of the biggest companies in the access arena is Genie, part of the Terex group, which also attended the recent ConExpo show, with some updated and enhanced equipment.
The company displayed its updated legacy booms, the SX-105 XC and the SX-125 XC, which are engineered to work in applications that require higher capacities.
The XC line stands for "Xtra Capacity," and all Genie XC booms combine the benefits of a dual-envelope design to provide an unrestricted range of motion, with a platform capacity of 300kg and a restricted operating envelope capacity of 454kg.
With the dual lift capacity, these new XC boom lifts are geared toward heavy lifting in the construction and maintenance of stadium and sports arenas, gas and oil refineries, industrial and telecommunications applications.
The SX-105 XC and SX-125 XC booms have a number of new features, including 24.38m of outreach, the ability to work 2.69m below grade and a 3.94m by 4.11 m operating footprint.
Adam Hailey, Genie's director of product management, said, "Thanks to new technology incorporated into the design, Genie XC booms will carry more load than ever before, and some models will be able to work on higher slopes, giving the machines the unparalleled ability to complete higher capacity jobs in a wider range of applications."
Also on Genie's ConExpo stand was the GTH-844 rough terrain telehandler that now comes with a 55 kW, Tier 4 Final engine option. With 389 Nm, this new GTH-844 telehandler is equipped with a high-torque version of the Deutz turbocharged 3.6L engine that has been optimized for 55kW performance. These features combine to offer similar torque as higher horsepower engine packages with reduced maintenance needs, as there is no regeneration or diesel exhaust fluid (DEF).
In addition to the new 55kW version, Genie continues to offer a 74 kW Tier 4 Final Deutz 3.6L diesel engine, as well as a 74kW Tier 4 Final Perkins turbocharged diesel engine. The company's latest and more compact version of its 135ft ZX-135/70 articulating boom also featured at the Las Vegas show.
The opportunities for expansion in North America are clear, but the Asian market is also attractive for access manufacturers, and Haulotte chose Bauma China in November last year for the global launch of its new 28m telescopic boom.
Weighing 17.9 tonnes and with a maximum outreach of 23.8 m, the HT28 has two important new features that will eventually be found on every Haulotte boom: an engine auto-stop feature that the company estimates will reduce engine run time by 20% and cut fuel use by 8%; and a lighting system to make loading and unloading safer.
Growing Asian market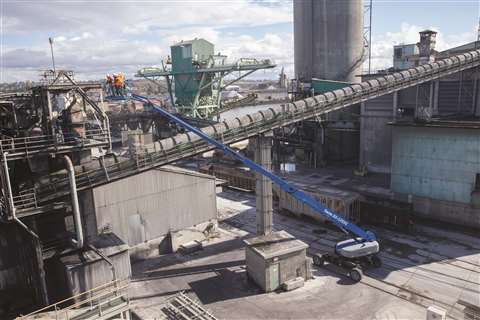 Features on Genie's SX-125 XC booms include 24.38m of outreach and the ability to work 2.69m below grade
Haulotte Shanghai's General Manager, Tomie Chan, said the HT28/HT26 size was very important for the Chinese and wider Asia market – more so even than Europe. The units are being manufactured in France.
At the show, Haulotte's Managing Director for Asia, Damien Gautier, reported that the company's sales in China had doubled so far this year, driven by growth in shipments to rental companies. He added financing was an important factor in Haulotte's growth, with more than half of its sales being supported by finance.
The company has had a base in Shanghai for 10 years, but in response to recent growth it has added a sales and service office in Beijing and next year will open a new facility in Guangzhou, southern China.
Haulotte also reported the landmark sale of its first telehandler, a 14m HTL4014, in China, to rental company Chongquing Baisitai (Zhibang Group), an XCMG excavator dealer that in the past few years has started renting aerial platforms. It already has around 185 Haulotte aerials, but this is its first handler.
"Telehandlers are coming late to China", said Haulotte's chief operating officer, Alexandre Saubot, "We're starting to see signs of interest. Medium term I am confident it will find its place, but for rental it's at the very beginning."