Access Rental Fleet 50 2017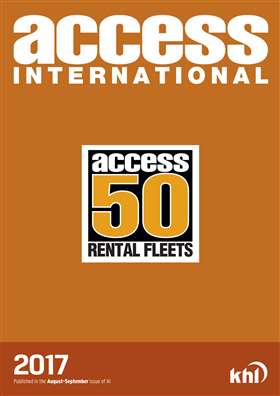 We have what could be described as a meteoric rise in the top five entries in this year's access50 listing of the world's biggest access equipment rental companies, measured by fleet size.
When added together their total fl eet size comes to an impressive 291170, refl ecting a 31% rise on the top five last year. There is one good reason for this - acquisitions. While United Rentals completed its buyout of NES Rentals in April, lifting its fleet size by around 20000, another big leap this year was performed by Loxam, following its acquisition of Lavendon Group and Hune. Lavendon had a similar fleet size to NES of just over 21000, and generalist Hune had 5100 units, (as shown in last year's access50).
Supporting documents
Click links below to download and view individual files.