Acme Lift, H&E work together for Cowboys project
By Lindsey Anderson27 July 2009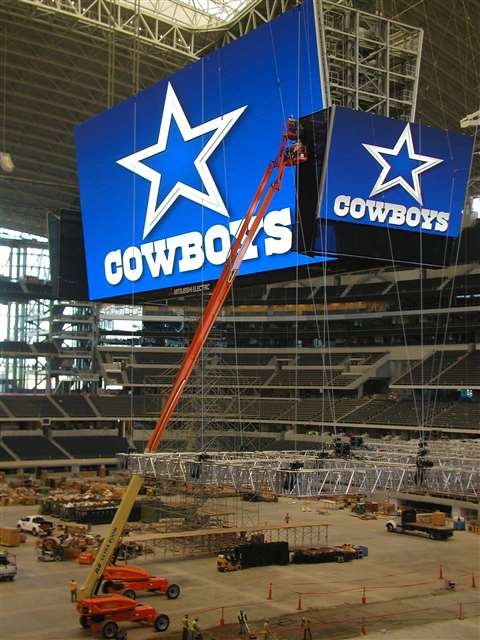 ­­H&E Equipment, located in Grand Prairie, TX, recently supplied equipment with Acme Lift for a Dallas Cowboys stadium project. After three years of construction and a $1.1 billion price tag, the final touches, including the mounting of a 1080p video board, were put in place.
The four-sided video board spans 25,000 square feet and is hung 90 feet above the stadium at midfield. In order to get the massive 1080p installed, H&E territory account manager Juan Trevino called in Acme Lift for additional aerial work platform - a JLG 1350SJP Ultra Boom - to complete the job.
"We had to rely on Acme to get a boom in addition to booms we already had," said David Gallaga, assistant service manager for H&E. "We were very fortunate for being on that site and the amount of equipment we had on that job."
Workers constructed a 72-oot-tall steel structure that contained a 10-level network of catwalks in order to hold the video board in place. Three-inch steel cables gripped each end of the video board, which is tethered to the stadium's steel box truss arches.
Jerry Jones, the Cowboys' owner, said the display is one of hugest in professional football history. "You will be able to see the players as if you were standing on the sidelines..."