ACT EXCLUSIVE: New Link-Belt AT crane
By D.Ann Shiffler09 January 2023
Flying into Lexington, Kentucky's Bluegrass Airport has always been a treat. Just before landing, the plane circles over the beautiful green pastures of stately horse farms where racing Thoroughbreds graze.
The Autumn air was crisp when I landed in late September 2022, a month before Bauma would commence in Germany. But I wasn't there to see what Link-Belt had in store for Bauma. I was visiting the Link-Belt factory to see the cranes the company would roll out six months later, at ConExpo 2023. It's a secret I've been keeping, until now.
Like the horse breeders preparing to unleash the next Triple Crown winner, Link-Belt is well-versed in launching new cranes. Distinguished in its product development strategy, Link-Belt aspires to hit the market with cranes that meet market needs. ACT exclusively reports that among Link-Belt's new launches at ConExpo is a 300-ton all terrain crane, that "is a big leap forward in our continued investment in our AT product line," said Andrew Soper, product manager for on-highway cranes at Link-Belt.
The AT market involves four players – Tadano, Liebherr, Manitowoc Grove and Link-Belt. Link-Belt designed this all terrain crane to meet or beat all the cranes on the market in this class.
"Our question, when we started our AT line, was what can we do that the other guys do not do?" he said. "This was our real opportunity to capture some interest, so that's why we decided on the 300|AT telescopic all terrain crane."
New look and feel
The hottest market for ATs, Soper ascertained, is the 300-ton five-axle class.
"Five axles continue to lead the way," he said. "Historically, that's the bell curve, they get the biggest portion of the market."
With the 300|AT, Link-Belt has taken it's AT game to the next level. First off, this crane has a new look and feel from Link-Belt's earlier ATs. The new crane has all the bells and whistles, and more, Soper said.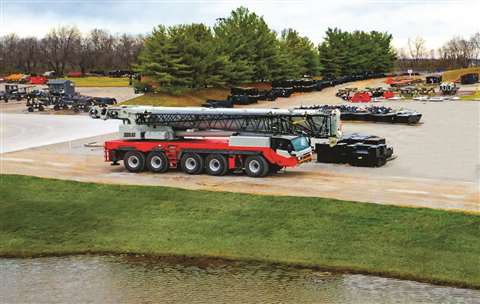 In terms of the look, the most obvious change about this AT, relative to its predecessor, is the two-person carrier cab, which is all new but still features a user-friendly interface and functionality Link-Belt customers are familiar with, Soper said.
"It's all about mobility, capacity and reach in this market," he said.
The 300-ton crane features a 46 to 238-foot seven-section latching boom. Attachment options include a 42 to 71-foot two-piece hydraulic offset fly, a 9.5-foot heavy lift jib and two 25-foot lattice fly extensions providing a maximum tip height of 369 feet.
With 162,000 pounds of maximum counterweight, the 300|AT has 29,392 pounds of maximum winch line pull. It features a new winch with poured socket termination through flange side clamping on the drum. It has a 384 foot per minute maximum line speed.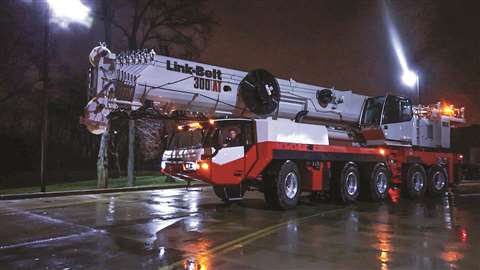 Link-Belt's engineers, through it's Voice of the Customer program, discussed the single or double engine concept.
"In the end, other factors like mobility, capacity and reach carried more weight," Soper said.
The crane features a single engine platform utilizing a Cummins X15 diesel carrier engine that is EPA on-highway/CARB On-Road Compliant."
The crane features ZF Traxon automated manual transmission; 12-speed forward, two speed reverse; integrated IntarderBraking with paddle shift controls; 10x6x10 standard drive with electronic steering on rear three axles; 10x8x10 optional drive; 24-volt electrical systems with optimized CANBUS communications; and 525R20.5 all-terrain tires.
Designed to move
The crane will debut with Link-Belt's new iV-CALC system that includes infinitely variable outrigger positions with capacities based on four outrigger positions.
It has an automatic swing function kick out, and safety limits are set for forward and backward stability. It features wireless rigging, including carrier and upper function modes and a fly erection mode.
"Transportation being what it is now, this crane was designed to move in the most efficient possible configuration across North America, " Soper said. "In some markets users will be able to carry the counterweight tray on the deck for transportation."
Without the counterweight, the gross vehicle weight is 132,297 pounds. With the boom dolly, the gross vehicle weight is 150,000 pounds, When transporting with a three-axle boom dolly, 20,000 pounds per axle is achievable. The 300|AT is transported with four overflow loads.
"This machine shows Link Belt's long range commitment to our AT product line, and when customers see this rig in Vegas, they'll agree," said Pat Collins, Link-Belt's director of product marketing.
Link-Belt had built three prototypes that were amid structural and functional testing when I was in Lexington. The crane will be in production starting in
late 2023, with the first units rolling off the line in early 2024, Link-Belt said.