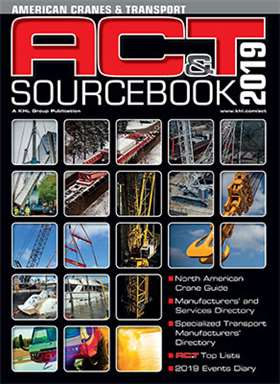 The American Cranes & Transport Sourcebook has become a mainstay in the digital and hard copy libraries of crane owning companies, OEMs and other industry leaders.
Designed as an annual yearbook of the crane, rigging and specialized transportation sector, the Sourcebook features all of the most pertinent information printed in ACT in 2018, as well as our exclusive "North American Crane Guide."
This is the only place to find our annual ACT Top Lists, including the ACT100, ACTTRANSPORT50, SPECIALIZEDLIFTING50 and ACTTOWERCRANE50 all in one place.
Supporting documents
Click links below to download and view individual files.