Advanced technology for new demands
When United Kingdom-based Wessex Demolition & Salvage expanded its fleet in response to new contracts, it purchased three new hydraulic breakers. Already using a Montabert V1200 breaker for over 10 years, the company decided that the new breakers should also be Montaberts supplied by Inmalo.
For Wessex, Inmalo has supplied the 501NG (780 kg or 1,720 lb), V2500 (2,600 kg/5,732 lb) and the heavyweight V4500 (4,900 kg/10,802 lb) units to suit a range of applications and excavators for the most demanding of demolition contracts.
"We chose the Montabert hammers for their power and reliability plus Inmalo's professional back up," said Richard Grant, managing director of Wessex Demolition.
"The improved design and the technological advances were also important factors in the decision."
The 501NG breaker has been fitted to Wessex's Doosan DX140 excavator for the lighter jobs, while the V2500 and V4500 are working on its Volvo EC250 and Volvo EC480 excavators respectively.
The V2500 and V4500 breakers with their automatic speed and power change are from the Heavy range and are ideal for demolition projects with heavy duty foundations or lighter slab.
The range has models that are suitable for excavators from 18 to 80 t.
Inmalo's Charles Polak commented: "Wessex Demolition certainly made the right choice with these two breakers. Having seen the V4500 in action today on heavy concrete foundations, it made light work of them, increasing productivity and reducing time spent on site."
Epiroc says its premium SB series hydraulic breakers are the industry's only breakers equipped as standard with an integrated channel for water spraying, a feature that is designed to help improve the working environment on construction and demolition sites around the world.
With an integrated water channel, operators can spray water at the source of dust creation to keep dust levels down. This helps to improve the working environment, enhances visibility and prevents dust from seeping into the bushings. For US customers the water spraying feature can assist in compliance with Occupational Safety and Health Administration (OSHA) final silica rule dust regulations. SB breakers are also designed to protect operators and equipment by reducing noise and vibration.
Designed for the 0.7 to 24 t carrier class, SB series breakers are suitable for a range of applications that includes demolition and renovation work, construction projects and pile driving.
According to Epiroc, SB series breakers combine superior efficiency and performance with high durability in a compact design. The range includes models to match any micro or mini excavator, backhoe, skid steer loader or demolition robot. Service weights range from 55 kg (121 lb) for the SB 52, the smallest breaker of the SB series, to 1,060 kg (2336 lb) for the SB 1102.
Impact rate
Epiroc EnergyRecovery technology absorbs recoil energy, increasing overall performance. The result is a higher impact rate from the same hydraulic input with less vibration. The slim, compact design makes SB breakers easier to handle and improves operator visibility.
The SB SolidBody concept uses a patented internal design integrating the impact mechanism and the guide system into a single piece, which Epiroc says eliminates the weakest components of traditional breakers such as damping and guiding elements, tie rods, parting lines and stud bolts.
SB breakers include an integrated pressure relief valve for overload protection, Auto Start, air inlet for underwater applications, oil drainage plug, dust wiper, slip fit bushing and dual tool retainer bars for better support.
JCB Attachments offers three ranges of hydraulic breakers designed to work with its own excavators, backhoe loaders and compact machine lines as well as universal breakers for fitment on other machine brands.
There three ranges of are Contractor breakers, Professional breakers and handheld breakers. Both the Contractor breakers and the Professional range of hydraulic hammers are supplied with a three-year warranty that comes as standard.
Contractor hydraulic hammers have been designed for JCB machinery as well as other brands of excavator and breaker tool carrier. They provide a JCB product for users looking to retain parts made by the company, and expecting good quality and high productivity but with a budget to work to. Each hammer has been extensively tested and matched to work perfectly with JCB carrier machines and is CE marked as appropriate.
The range includes 14 models, from the compact HM012T at 120 kg (264 lb) operating weight to suit mini and micro excavators, through to the 3.8 t HM380T that has been designed to work with excavators in the 40 to 60 t category. All models have their final assembly in the United Kingdom and are backed by a three-year manufacturer warranty.
The HM033T and above in the Contractor breaker range have accumulators to protect the carrier machine from hydraulic pressure spikes, reducing possible wear and tear on the hydraulic system.
Scaled design
Contractor breakers use a single scaled design with the same maintenance requirements for each model. This ensures that the dealer and customer service staff, particularly in a rental operation, can easily work on all hammers in the range.
The Professional breaker range has been designed and built to work in specialist dedicated breaking applications. They are supplied "ready to go" with hoses, hangar bracket and chisel tools. JCB says their body design provides maximum strength with lower weight and the low maintenance accumulator helps reduce maintenance costs.
JCB's range of handheld breakers is built for demolition and breaking work with six models all boasting excellent power to weight ratio. They boast the lowest vibration levels of any equivalent breakers thanks to the vibro-damped handles while extremely low noise levels are ensured courtesy of a sealed hydraulic system.
The company adds that only two moving parts and constant lubrication by hydraulic oil lead to a long service life and each is delivered ready to work.
Designed for concrete demolition, trenching and general excavation, the Bobcat HB Series of hydraulic breakers is intended for use on the company's compact loaders and excavators.
The Bobcat breaker range offers nine models running from the HB0280 breaker (minimum flow 13 to 23 l/min) to the HB2380 (75 to 125 l/min), offering high performance, greatly reduced maintenance and ease of use. The breakers feature a frame with a cylindrical design, providing improved access to jobs in confined areas such as inside structures or holes. The breakers are standard equipped with a special shield to protect hoses and fittings from being damaged when working close to the ground or in tight spots.
Design of the breaker's hydraulic system provides increased efficiency, ensuring a longer working time without risk of overheating. The breakers also incorporate an effective soundproofing system, whereby the striking assembly is held top and bottom by suspension systems that are not in contact with the outer cylindrical housing.
In addition, the breakers have an internal design with fewer moving parts and no tie rods. As a result, the breakers can be completely disassembled in under five minutes, without the need for special tooling, which reduces maintenance costs even further.
The company says the HB Series also pioneers a new way of working with a breaker.
For the first time, either a bucket or a vibrating plate accessory can easily and quickly be fitted onto the breakers.
All HB breakers share versatile mounting allowing use on both Bobcat compact loaders and excavators; silencing as standard; fewer moving parts for easy and minimal maintenance; and an automatic pressure-regulator that ensures the breaker works at its optimum operating pressure on all approved carriers.
Another feature is a patented treated steel ring "clip" system, which retains the bushing of the tool and protects the greasing system.
This ring is easily removed with a multi-purpose tool supplied with the breaker, to release the sliding bushing and the tool instantly.
Carrier weights
Doosan offers the DXB range of five hydraulic breakers for use on medium and large excavators, covering carrier weights from 10 to 34 t. Suited to demolition work, the Doosan breaker range is also intended for general construction, rental, quarrying and mining applications.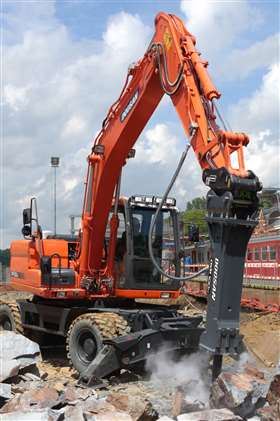 The DXB series of hydraulic breakers comprises the DXB100H, DXB130H, DXB170H, DXB190H and DXB260H models, all sharing a design described as providing both economical and reliable performance, low maintenance costs, operator comfort and carrier protection.
DXB technology ensures the carrier is protected from the effects of reduction in pressure peaks. The breakers include an energy recovery system and a patented valve system, increasing overall performance;
a high quality piston and cylinder manufactured to precise tolerances; and an advanced dampening system to protect the breakers against blank firing. The close tolerances of the parts used in the breakers result in lower maintenance costs.
At the top of the range, the Doosan DXB190H is suitable for 22 to 30 t excavators while the DXB260H breaker is designed for use on 27 to 34 t excavators. The superior power-to-weight ratios of these breakers are said to provide efficient reduction of rock, boulders, concrete and other demolition waste, as well as excavation work.
Cat B-Prefix hydraulic hammers, available in B4(s) and B6(s) silenced and B4 and B6 non-silenced versions, are designed for "plug-and-play" operation with a range of compact equipment, while delivering optimum life-cycle value. The new hammers are suited for skid steer loaders, multi-terrain loaders, compact track loaders, mini hydraulic excavators (3 to 8 t operating weights), and backhoe loaders working in a range of construction and light demolition applications, including site preparation, landscaping, masonry, and concrete breaking. The B-Prefix hammers use a simple design that is described as ensuring reliability, versatility, ease-of-use and maintenance.
As a package solution, the matching Caterpillar-designed hydraulic kits are also offered and are the best fit for Cat machines.
The hammers feature an industry-standard modular design with two moving parts in the piston and valve.
Wear performance
Flat-top mounting enables compact working envelope and compatibility with a full complement of brackets to suit preference of coupler, linkage kinematics, or machine size.
Bushings are field-replaceable, and the lower bushing can be rotated 90° for improved wear performance while housings are designed to facilitate common maintenance items. Grease fitting and gas pressure check point are easily accessed with hammer on machine.
Tool types for the new hammers include cone, parallel and transverse chisel, and blunt, allowing the hammer to be adapted to an extensive range of applications.
This article is from the September-October 2018 issue of Demolition & Recycling International. To see the print version, or to register to receive the magazine on a regular basis, please visit www.khl.com/subscriptions