Aertssen buys Michielsens
By Alex Dahm08 January 2018
Aertssen Group, part of which is the Aertssen crane rental company, has announced its acquisition of fellow Belgian crane operator Michielsens.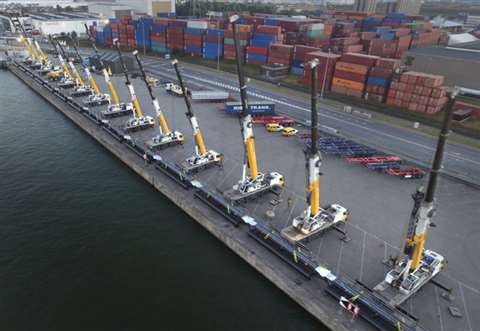 Aertssen said it wants to take strategic advantage of both companies' strengths to reinforce its own market position, as a heavy lift contractor offering total solutions and as a crane rental company for all customer segments.
Commenting on the deal, Greg Aertssen, Aertssen Group chief executive officer, said, "The acquisition of Michielsens is an important strategic step and underscores the healthy ambitions of our family business for growth, both in Belgium and internationally.
"Michielsens will be run as an independent business unit within Aertssen Group with retention of the current employees and its own identity and customers, which very much complement those of Aertssen," Aertssen continued.
Stabroek-based Aertssen Group specialises in construction and infrastructure with its crane rental, specialized transport, earthmoving and demolition activities, among others. It is a family-owned company that operates in more than 20 countries from head offices in Flanders, the Middle East and Morocco. The workforce is 1,350 people and turnover in 2016 was €232 million (US$ 279 million).
As a leading Belgian crane rental company Michielsens is a 50 year-old a family business with a fleet of wheeled mobile telescopic cranes. There are 200 employees and 2016 turnover was €24 million ($29 million).
One benefit of the acquisition will be optimised crane deployment via a digital platform, which will save thousands of crane kilometres a month, Aertssen said.
Completion of the deal is expected by mid-February 2018.