AFI assists on Newcastle bridge
By Sarah Ann McCay02 May 2014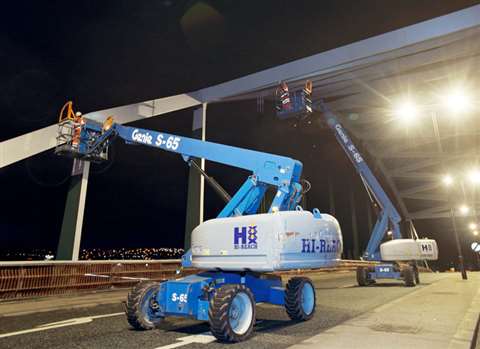 UK rental company AFI recently provided boom and scissor lifts to Pyeroy as it carried out maintenance work to the Scotswood Bridge in Newcastle.
Pyeroy used two Genie S-65 boom lifts and two Skyjack SJ6826 scissors lifts to carry out repairs to concrete, steelwork and parapets and paint approximately 14500 square metres of the bridge's structure. About 4000 litres of paint was used.
AFI undertook a site survey before specifying the boom and scissor lifts for the contract and also provided Pyeroy personnel with machine familiarisation training.
Pyeroy Group technical director Brendan Fitzsimons said, "AFI was very flexible in supplying the powered access equipment exactly when it was needed. The machines they specified were the perfect size for the job and provided our contractors with safe, easy access to the steelwork on the bridge."
Although the project involved some night closures of the bridge to allow work to be carried out on the main arch, safe access routes for pedestrian and cyclists were maintained at all times.
The Genie S-65 has a working height of 21.8 m and an outreach of 17.1 m, while the Skyjack SJ6826's working height is 10 m.