Aggreko to buy loadbank specialist
By Murray Pollok09 December 2022
Loadbank rental firm Crestchic has agreed to a £122 million takeover by Aggreko.
The cash offer represents a 44% premium on Crestchic's share price on 15 November, the day before the offer was received by its directors, and a 13% premium on the price on 8 December.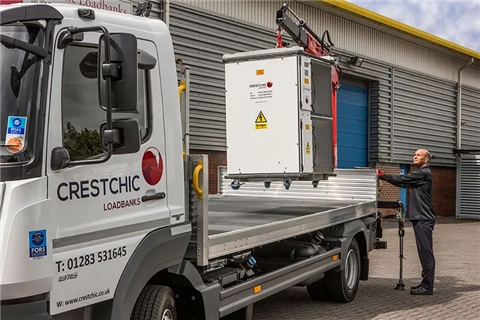 Crestchic, based in Burton-on-Trent in the UK, manufactures, sells and rents loadbanks and transformers to customers including power companies.
It has locations in the UK, France, Germany, USA and Singapore. It reported revenues in 2021 of £29.5 million, with an almost 50/50 split between rental and sales.
Crestchic said the logic for the deal was strong because it was competing with much larger international groups, the economic environment was uncertain, and because there were risks on the delivery of returns to shareholders.
It said Aggreko offered complementary products, increased geographic reach, and resources that could accelerate its growth, "particularly in relation to its small but growing business in the USA."
Aggreko's intention to maintain the location and function of its UK headquarters also played a part in the decision, said Crestchic.
Mike Smith, Chairman of Aggreko said: "Crestchic is a world-class business operating in an attractive and specialised area of the power reliability market.
"In Aggreko, Crestchic will have a supportive and well-capitalised owner who shares Crestchic's desire to execute against its long-term vision of providing solutions aligned with the changing requirements of our customers."
Peter Harris, Executive, Chairman of Crestchic, said the business had the potential to generate significant value for its shareholders in the long-term; "However, the Board recognises that Crestchic, as a relatively small business, could accelerate its growth and shareholder value creation by combining with a significantly larger player in related global markets.
"The Offer of 401 pence per Crestchic share in cash represents an attractive, immediate premium for shareholders, and I am confident that under Aggreko's responsible long-term stewardship the business will continue to thrive."
Crestchic's loadbanks are used primarily to test power generation equipment, including uninterruptible power supplies. Its equipment is used in sectors including healthcare, marine and shipbuilding, data centres, oil and gas, and mining and drilling.
Aggreko is the world's largest power rental company. It was acquired by private equity investors in August 2021. In mid-November it reported revenues of £1.3 billion for the nine months to 30 September, up 7% on the same period in 2021. Operating profit rose by 22% to £229 million.