Ahern Canada opens
By Euan Youdale23 October 2017
Part of the Ahern International division, Ahern Canada celebrated its official launch on Thursday last week (19 October) with a grand opening ceremony at its new facility in Edmonton, Alberta.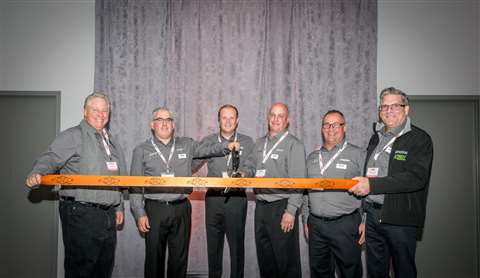 Owned by Don Ahern, Ahern Canada is the fifth regional distribution outlet to open, following in the footsteps of Ahern Australia, Ahern Japan, Ahern Deutschland and Ahern Chile. All Ahern International businesses are focused on the sale and service of Snorkel aerial lifts and Xtreme Manufacturing telehandlers.
Ahern Canada is located at a facility in West Edmonton, strategically located to be able to support the equipment requirements of rental companies and contractors across the country, as well as the resources and energy sectors. The 836 square metre (9,000 square ft) facility houses a large showroom, offices, a spare parts warehouse and workshop for equipment servicing and repairs.
The Edmonton branch will hold a significant stock of Snorkel and Xtreme spare parts to support equipment in the field, as well as an inventory of new Snorkel lifts and Xtreme Manufacturing telehandlers, ready to fulfil immediate customer requirements. Ahern Canada also has a field sales team covering Eastern and Western Canada, and offers both on-site and field service and repair capabilities.
Rhett Nickerson, western regional sales manager for Ahern Canada said, "The official launch of Ahern Canada is an important step for Xtreme Manufacturing and Snorkel in this region. Our customers in this market are very excited to have a 'bricks and mortar' facility that will be fully stocked with spare parts and new equipment inventory, backed by a local team with significant industry experience."
Matthew Elvin, CEO of Ahern International said, "Canada is a very important market for Xtreme and Snorkel, where we already have many valued customers. The investment in Ahern Canada reinforces our commitment this region, and will help us to deliver improved customer service and easier access to spare parts and new equipment, which we will be stocking at the Edmonton branch. We are very excited about this location, and we are looking forward to serving the Canadian market."