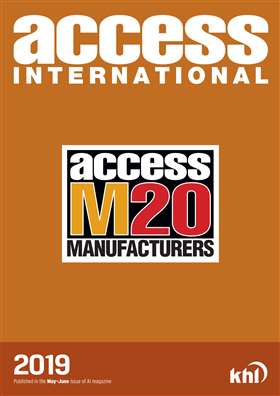 We've got another very healthy set of figures this year in the AccessM20. A vast majority of companies have made good progress in the 2018 calendar year, on which this survey is based.
Indeed, some of the rises have been exceptional, particularly from the Chinese manufacturers, which are demonstrating through their figures, just how strong their domestic market is and the potential growth outside its borders.
Dingli leads the China-based producers in 10th place. While that is just two steps up from 12th in the listing last year, the company's revenue has grown nearly 50%, (the figure has been estimated but only to take off a small percentage for telehandler sales).
This represents a phenomenal achievement that is equalled and, in some cases surpassed, by other Chinese companies. Sinoboom has made a major leap, with a 121% increase in revenue to 19th place in the table, from 26th last year.
Supporting documents
Click links below to download and view individual files.