Ainscough expands fleet
By Niamh Marriott11 August 2022
UK-based Ainscough Crane Hire has invested in 18 new single-fuel-tank Scania trucks to its fleet.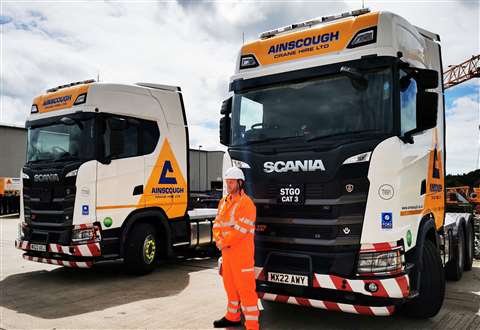 The Scania 660 SXT trucks have arrived as part of Ainscough's ongoing investment programme. Lighter in weight than previous trucks, the aerodynamically designed models enable improved levels of fuel consumption in line with Ainscough's goals of becoming carbon neutral, the company said.
HVO fuel
The new trucks will also enable the company's operatives to take advantage of the HVO (Hydrogenated Vegetable Oil) fuel bunkers present at all depots following the company's recent switch to HVO.
The vehicles feature electric plugs which can be used while idle at depots and certain customer sites. The team also worked with Scania to relocate toolbox positions, allowing for easy roadside access to the trucks, reducing need for manual handling and associated risks.
As the trucks run on single fuel tanks, Scania were able to add additional storage space where the second fuel tank would previously sit. The space allows drivers to stow away PPE and safety gear as opposed to carrying it with them in the cab.
Drivers of the new trucks will have access to a tyre pressure monitoring system which allows the observing of both axles, along with tyre temperature, brake temperature and the security of the wheel nuts. The company said this system means any issues with the truck can be rectified before leaving a site or depot.
The interior of the truck has a flat floor, giving the driver maximum freedom of movement as they transition from driving to resting to sleeping and the vehicles include an integrated fridge freezer.
Chris Britton, general manager for heavy cranes and transport at Ainscough Crane Hire, said, "The main difference we have with this model is that we have a single fuel tank, because we can now take advantage of the HVO bunkers at all of our depots across the UK.
"In conjunction with Scania we have made certain adaptations to this model. We've changed the layout of our toolboxes so that we can access equipment and kit from the roadside, reducing manual handling and working at height risks.
Net zero ambitions
Earlier this year Ainscough Crane Hire become the first national crane company in the world to commit to using HVO (Hydrogenated Vegetable Oil) in its fleet, representing a key milestone in the construction industry's journey to net zero.
The move covers Ainscough's 400+ cranes and 30+ transport and heavy goods vehicles (HGVs).
Ainscough anticipates that the adoption of HVO will result in a further CO2 reduction of up to 90 per cent, saving in excess of 14,000 tonnes of CO2 per year. An additional 5 % reduction has been achieved through wider energy saving initiatives with the residual circa 5 % met via the use of UK based residual carbon offsetting.
Ainscough previously invested in ten Scania trucks, Model 5580/650A6X4NZ Premium Highline XT spec in 2021.
Supporting documents
Click links below to download and view individual files.