Ainscough helps with flood defences
By Alex Dahm22 February 2021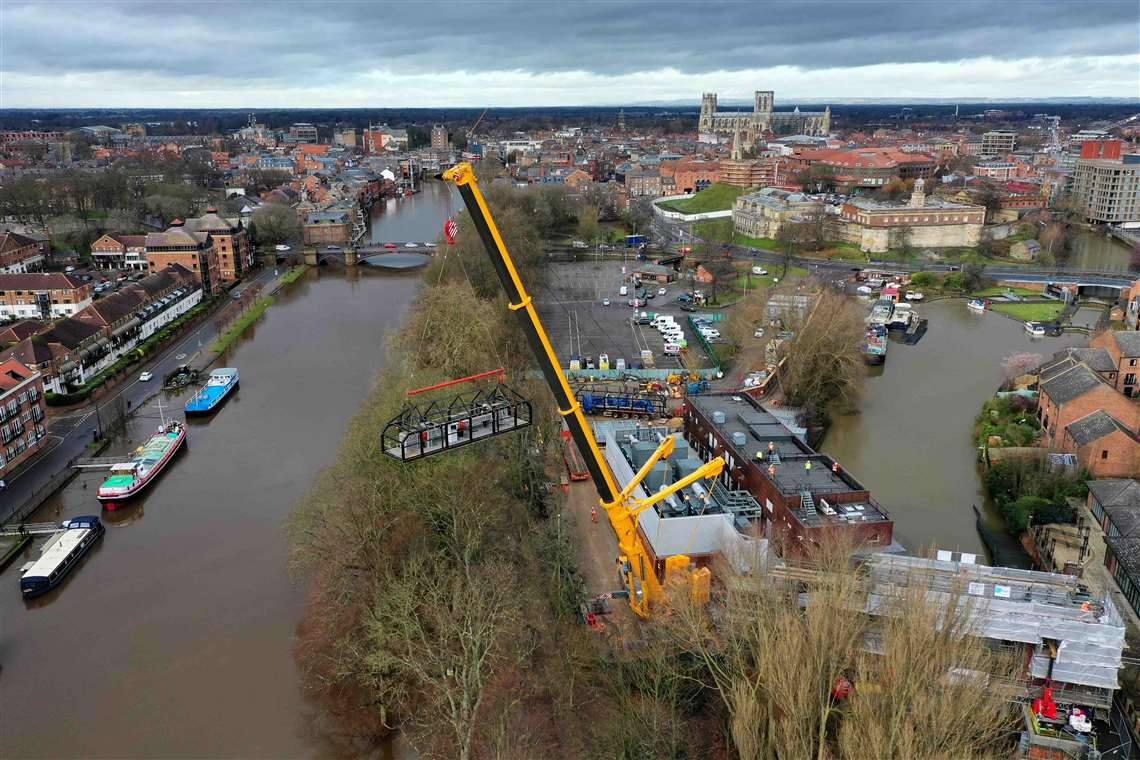 Mobile crane rental specialist Ainscough Crane Hire was enlisted to install a new lifting gate on the flood barrier at York in the north of England.
Replacing the old gate at York's Foss flood barrier was part of the UK Environment Agency's £38 million (US$53 million) upgrade to the barrier and pumping station which helps protect 1,200 properties.
Ainscough was working for AIS Vanguard Ltd which, in turn, was working for engineering and construction company JBA Bentley. Even during the installation of the 18 tonne gate, which stands 8.5 metres tall, the River Ouse rose more than four metres above normal.
Two 500 tonne capacity Liebherr LTM 1500-8.1 wheeled mobile cranes from Ainscough's Heavy Cranes team made all the lifts. Both were rigged with 36.9 metres of guyed main boom and 165 tonnes of counterweight. They were working at a 17.0 metre radius. Each crane was good for a safe working load of 87.1 tonnes.
The Foss Barrier pumping station project is scheduled for completion by June 2021.
Mark Fuller, project lead for the Foss Barrier improvement scheme at the Environment Agency, said, "Today saw a major milestone in our plan to provide better protection for residents and businesses in York from flooding.
"We have invested £38 million in improvements to the Foss Barrier to reduce the risk of flooding for around 1,200 properties in the local area which now includes a huge, much taller flood gate being air-lifted to the site which will replace the old one.
"This will stop flood water from the River Ouse backing up along the River Foss after heavy rainfall. It means that the upgrade to the pumping station is one step closer to being complete."