Al Faris orders 69 Liebherr cranes
By Alex Dahm25 March 2020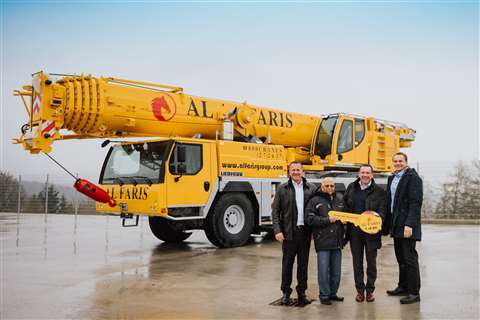 An order worth €80 million (US$ million) for 69 new Liebherr cranes will give a major boost to the already extensive fleet of lifting and transport specialist Al Faris.
Headquartered in Dubai, United Arab Emirates, Al Faris already has more than 600 Liebherr cranes in its fleet. The latest order is for wheeled mobile cranes in capacities between 50 and 650 tonnes and crawler cranes rated between 400 and 800 tonnes.
Wheeled mobile telescopic cranes in the order include, two LTC 1050-3.1 compact cranes, 12 units of the LTM 1230-5.1 and one LTM 1500-8.1. The 500 tonner has already been handed over, as has the first LTM 1230-5.1, which is also the first of its kind in the Middle East. Al Faris now has 12 units of the 500 tonner, the largest fleet of this model in the region, Liebherr said. Hillary Pinto, Al Faris managing partner, said the LTM 1500-8.1 is his "absolute favourite crane."
Also in the order was a pair of the new 700 tonne capacity LTM 1650-8.1 cranes, scheduled for delivery in 2022. It is successor to the LTM 1500-8.1 and was launched at the Bauma 2019 trade show. Crawler cranes in the order included the 400 and 600 tonne capacity LR 1400/1 and LR 1600/2, plus the new 800 tonne LR 1800-1.0.
As one of Liebherr's biggest customers Al Faris added 60 new wheeled cranes to its fleet in the last two years. It was started in 1992 and is now the largest crane and transport vehicle rental company in the whole of the Middle East, Liebherr said, and one of the largest in the world.
Mobile crane rental is its core business but Al Faris offers engineering and management packages for heavy haulage and lifting projects. The workforce numbers more than 3,200, at six branches in the UAE, three sites in Saudi Arabia and one in Bahrain. The total fleet is more than 2,450 cranes, heavy transporters and trailers and other equipment.