Al Faris uses Demag CC 3800-1 crawler
By Christian Shelton22 August 2018
UAE-based crane service provider Al Faris lifted three 72-metre-long spud legs weighing 130 tonnes each. The spud legs were lifted from a barge at Hamriyah in the United Arab Emirates (UAE).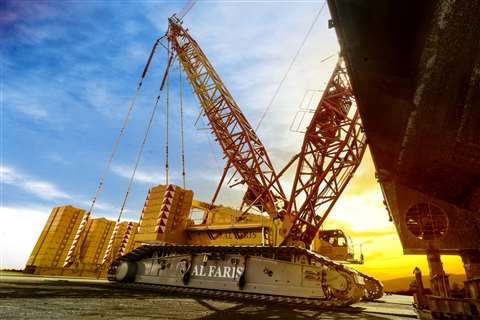 Al Faris used its Demag CC 3800-1 crawler crane for the job. The crane has a nominal capacity of 650 tonnes and a maximum load moment rating of 8,484 tonne-metres.
The crawler was first transported 82 km from Al Faris's location in Dubai Industrial City to the job site. The journey took more than ten hours using Al Faris's lowbed trailers. The company then used a team of ten people and its own all terrain cranes to set the CC 3800-1 up.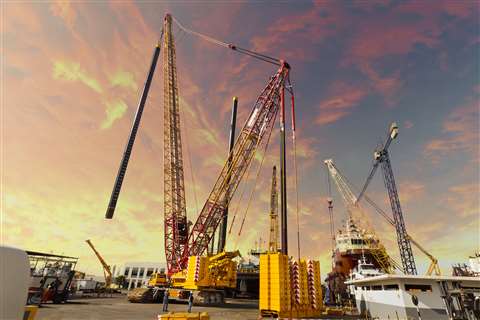 The team set the main boom to be 108 metres long and used a 36 m superlift mast. The central ballast totalled 50 tonnes, the superlift counterweight 325 tonnes, and the counterweight on the superstructure 165 tonnes.
The CC 3800-1 then lifted the three spud legs at a radius of 50 m, swung them to one side, and set them in place with the help of a 150 tonne crawler crane. According to Terex Cranes, who manufactured the crawler, the CC 3800-1 only used 68 per cent of its available rated capacity for the lifts.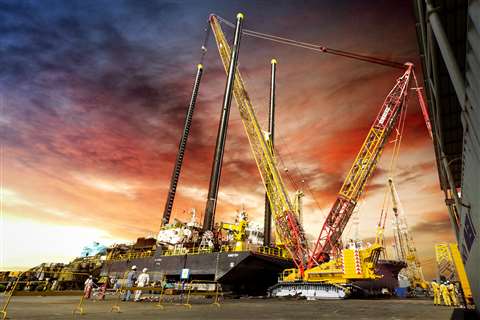 Al Faris said the Superlift Split Tray made it possible to easily uncouple the counterweight when it is no longer required, so that the crane can then move with just the superlift counterweight. "This clever quick coupling technology helped us save a lot of time at the shipyard," commented Hillary Pinto, Al Faris Group founder and managing director. "Setting up the slinging gear at a height of around 80 metres was an enormous challenge that required a lot of skill. Both, lifting and setting the unwieldy steel structures was an impressive feat."