ALE adds towers for wind turbines
By Alex Dahm21 March 2018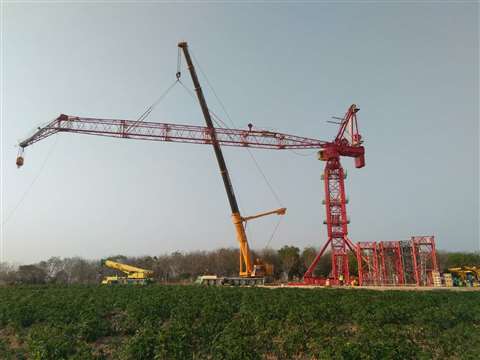 International lifting and transport specialist ALE has added three large luffing jib tower cranes to its fleet. They will offer savings in cost and time for customers in the wind sector, ALE said.
The K1650L tower crane from manufacturer Krøll in Denmark is designed to work in higher winds than conventional cranes. It requires less ground area than mobile cranes which reduces the amount and cost of ground preparation.
The crane is freestanding so there is no need to be tied in to the tower of the wind turbine. Having a 70 metre luffing boom means a smaller area of clear ground is needed than if an entire length of wheeled mobile telescopic crane boom or lattice crawler crane boom has to be laid out on the ground prior to erection. In addition, the crane can be transported on site partially rigged, reducing relocation time, ALE said.
Danilo Viappiani, ALE regional engineering manager, said, "As ALE secure more complex scopes of balance of plant (BoP) within the wind markets, we wanted to invest in the most suitable equipment for these operations. We work closely with our clients to understand potential challenges in the future, such as increased hub heights or heavier components, and where there is the opportunity to make time and cost savings. The tower crane solution has lifting capabilities like no other on the market, and by investing in these cranes, it represents a further ground-breaking advancement in our step to become world leaders in the renewable wind industry."
The cranes are on Wind Energy Holding's Thepharak wind farm project in Thailand, where ALE is providing the full-service TCI and BoP scopes. This includes the enhanced civil BoP and electrical installation services for 150 wind turbines with a hub height of 156.5 m. More than 700 components will be installed and work is due to be finished in June 2018.