ALE and the HMS Prince of Wales
By Laura Hatton02 November 2015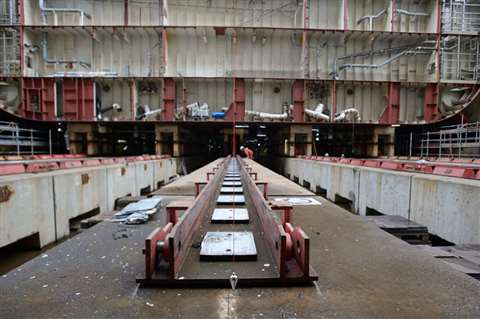 UK-based heavy lift and specialized transport company ALE has completed skidding the forward section of an aircraft carrier for the HMS Prince of Wales in Rosyth Dockyard, UK.
ALE was contracted by Babcock International Group on behalf of the Aircraft Carrier Alliance to carry out the jack-up and skid project. The contract involved jacking up and skidding two sections, weighing 13,050 and 26,500 tonnes, respectively.
The lighter section was skidded approximately 94 metres and the heavier section approximately 18 m. This is the heaviest item to ever be skidded by ALE, a spokesperson said.
ALE used skidshoes that consisted of a built-in jacking system for easy installation under the specially designed building supports, a spokesperson explained. The supports were placed on five rows of dock blocks to prevent sagging and to provide easy access under the sections.
In total 35 skidshoes were used for the lighter module and 58 skid shoes were used for the heavier module. Both had a minimum capacity of 500 tonnes. In total, 800 m of skid track was required to skid the lighter section and 650 m used to skid the heavier section. An additional 1,000 tonnes of spreader plates were fabricated to suit the skid shoes.
Tim van As, ALE project engineer, said, "This is the first time ALE has ever attempted to skid an item of such an extreme weight. We complied with the strict security and safety standards throughout and during the operation we overcame several challenges.
"It is fantastic to be part of what could potentially be a world first in skidding capabilities. By utilising our global network of equipment and technical expertise from the UK, Spain and the Netherlands to complete this operation, we are all proud of what has been achieved."