ALE claims world record lift
By Alex Dahm30 March 2017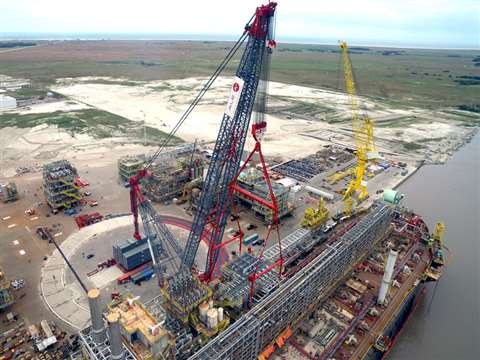 The record for the world's heaviest commercial lift using a land-based mobile crane has been claimed by ALE. The UK-headquartered heavy lifting and transport specialist lifted a module weighing more than 3,000 tonnes for an FPSO (Floating Production, Storage and Offloading) vessel integration project in Brazil.
A 5,000 tonne capacity AL.SK350 super heavy lift crane was used to lift the M9 module using 130 metres of boom and a 4,000 tonne capacity winch system at a radius of 86 m. It was rigged in its current biggest configuration, ALE said, with 49 m ballast radius and 4,000 tonnes of ballast. The crane's maximum load moment rating is 354,000 tonne-metres.
Earlier lifts on the project included 2,073 and 2,089 tonne modules. They were part of the four-month project to lift and install around 40 modules, altogether weighing more than 36,000 tonnes.
Michael Birch, ALE regional director – UK & Projects, commented, "It's not by luck that we have reached this milestone; we have a market-leading engineering and operations team, and it is testament to their hard work and skill that we have achieved a 3,000 tonne lift in this environment.
Birch went on to say by using this method money was saved, the schedule was shorter and fewer man-hours were needed, "This has definitely set the benchmark," he concluded.