ALE completes LNG project
By Laura Hatton09 July 2015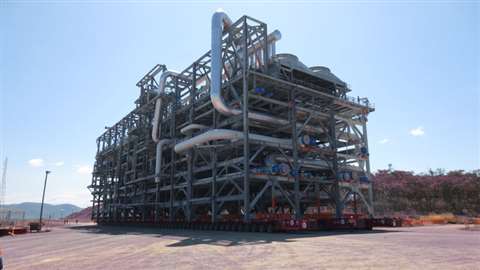 UK-based heavy lift and specialized transport company ALE has competed the transportation, load out and load in operations for Bechtel on projects in Indonesia and Australia.
The project was part of the construction of the Australia Pacific LNG project, which ALE had been contracted for by Bechtel in August 2011. In total, ALE was contracted to carry out the site transportations and load-outs of 69 modules weighing between 100 to 3,363 tonnes at the SMOE yard in Batam, Indonesia and at the LNG Facility on Curtis Island in Gladstone, QLD Australia, a company spokesperson said.
In total, ALE carried out 665 site-moves of various cargo, including offloading components from ships at Kabil Port. The heaviest module to be moved by ALE during the project was the module 101DA, which weighed 3,363 tonnes. To move the unit, ALE used 168 axle lines of self propelled modular transporters (SPMT) and six power packs.
Mike Ward, ALE contracts manager, said, "Our priority for this project was to optimise the most time efficient and effective transportation configuration.
"During the load-out operations of module 110RD, weighing 235 tonnes, we were faced with significant sea swells at the on-site wharf. Despite the challenging load-out conditions, our in-house operations and engineering teams were able to provide a wealth of experience which meant the load-out was executed in a timely and safe manner, marking a very important milestone for Bechtel and the owner, Australia Pacific LNG."
A total of 29 sea voyages were completed for the Australia Pacific LNG Facility Site at Curtis Island, Queensland, Australia. ALE's Australian branch received, loaded-in and placed all 69 modules successfully.