ALE delivers largest transformer in Ireland
By Ian Vallely10 November 2016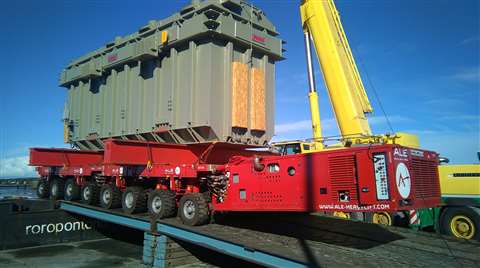 ALE has delivered the largest transformer ever to be transported in Ireland. The transformer, which weighs 345 tonnes, was delivered to Moneypoint Power Station in County Clare.
Once the transformer, which was manufactured in Italy, had set sail on a heavy lift vessel, ALE received it on a pontoon at Foynes Port, Ireland. The pontoon then sailed across the Shannon estuary to the power station jetty, where it was rolled off using self propelled modular transporter (SPMT) on a ramp from the roll-on, roll-off pontoon.
ALE then transported the transformer through the power station using 16 axle lines of SPMT in a configuration of four file eight to the substation. On site the transformer was offloaded onto jacks, jacked- down and installed to plinth.
Nathan Clarke, ALE project manager, said, "To have delivered a transformer of this size and weight in Ireland demonstrates our capabilities in transporting abnormal loads when faced with the logistical challenges of this part of Ireland. We offered a solution which enabled swift transfer from heavy lift vessel to plinth within 48 hours."