ALE focus on safety recognised
By Alex Dahm05 March 2019
International heavy lift and transport specialist ALE transported, lifted and installed eight modules weighing up to 1,820 tonnes onto a floating production storage and offloading (FPSO) vessel for the Liza Destiny FPSO project in Singapore.
The team's proactive approach to safety was recognised with the Best Safe Supervisor Award granted by the client on a recent FPSO project in Singapore.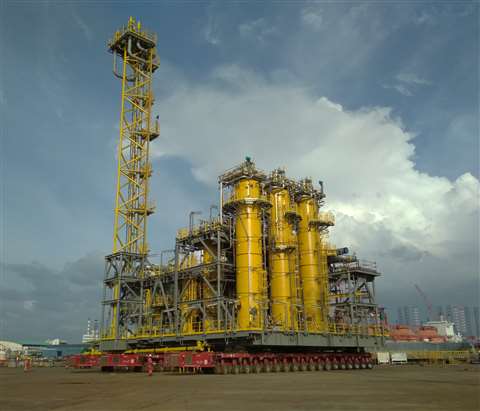 The operational team of six was also praised by the client, "Your willingness to step up and go beyond your responsibilities is highly commendable. Thank you for your continual dedication to safety."
Roberto Radicella, general manager at ALE's Malaysia branch, added, "It was the first time we worked with this particular client and they had the confidence in our abilities from our proven track record in the region."
He said ALE had a huge focus on in-house training and ensuring our operators have internationally-consistent standards of regular training as well as proactive focus of safety: "The fact that we only required six operators to undertake this project, less than half the crew other companies have previously deployed, is a good indicator of the expertise and capability we have within the team."
The project was completed within one month. Once the FPSO build is complete, the FPSO will be located 190 kilometres offshore in the Liza Field and is expected to produce up to 120,000 barrels of oil per day.