Align JV chooses VJ iStore
By Catrin Jones16 May 2023
Align, the joint venture between Bouygues Travaux Publics, Sir Robert McAlpine, and VolkerFitzpatrick, has chosen a procurement delivery solution from VJ Technology, the VJ iStore.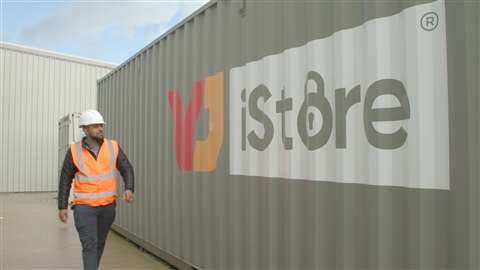 The VJ iStore is located at Align's site in Rickmansworth and consists of a 40 ft high bespoke modular shipping container which acts as a vending machine. The company says that the storage helps ensure that Align's contractors can be fed a constant supply of their most used products directly on-site.
A total of over 30 different Align contractors are said to be authorised to procure and collect from the VJ iStore. 
Products are available 24/7 which in turn increases productivity significantly and are only paid for once they have been collected. The company adds that it is replenished once every 10 to 14 days as managed by the active stock control system resulting in an up to 70% reduction in carbon emissions previously caused by daily deliveries to site.
Electra Thanopoulou, Buyer at Align, said, "As an early adopter of this solution we were able to work closely with VJ Technology to help them refine the offering which we believe is an exciting development which helps address a number of challenges we face.  Perhaps most importantly though the reduction in daily deliveries that reduce our impact on both the environment and the local communities we operate in."
Andrew Mobbs, CEO at VJ Technology, added, "These are challenging times for the sector and we are on a mission to de-risk the construction and infrastructure supply chain, playing our part to help projects finish on budget and on time."