Alimak Group accelerates profitable growth despite inflation
By Larry Stewart20 October 2022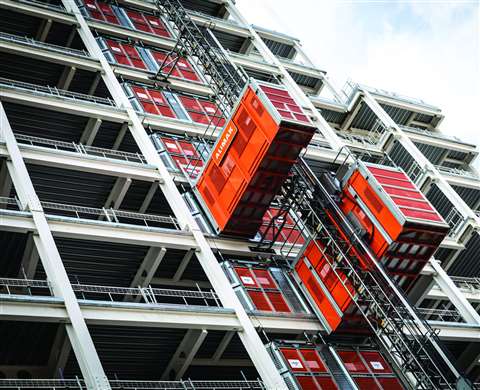 Alimak Group AB's third quarter results suggest its New Heights Programme is delivering on its design with solid organic growth, increased margins and accelerated merger and acquisition activity. The giant, Sweden-based designer/manufacturer of vertical access solutions engineered a 21% revenue jump in the quarter to MSEK 1,095 (million Swedish kronor, or $970.8 million) at an EBITA margin of 13.7%.
During the quarter Alimak closed the acquisition of Tall Crane Equipment and signed the deal to acquire Tractel. Nevertheless, the company's organic revenue increased 7%.
January-to-September results showed similar growth. Revenue increased 15% to MSEK 3,109 ($276.6 million) at 12.8% EBITA margin. Organic revenue growth was 4%.
Tractel to add operations
The MEUR 500 (million euro, or $490.1 million) acquisition of Tractel added a SEK 6 billion ($535.6 million) annual revenue stream at what Ole Kristian Jødahl, Alimak president and CEO, calls "stable high margins for the last ten years.
"We are excited to get all this competence on board and all the opportunities for increased value creation the acquisition brings into our existing business as well as adding a new vertical, Height Safety & Productivity Solutions."
That acquisition is expected to close in the fourth quarter.
Tall Crane strategy
In August, Alimak consolidated its MSEK 215 (27 million Canadian dollars) acquisition of Tall Crane Equipment LTD, a hoist and crane rental services provider headquartered in Langley, British Columbia, Canada. Tall Crane, said Jødahl, "reflects our strategic goal of being close to our customers in the markets they operate. Tall Crane´s rental services business provides a good foundation to expand Alimak Group's new and used product offerings, establishing a wholly owned footprint in Canada."
Growth in top markets
Third-quarter performance in Alimak's three largest markets was dramatic:
In Façade Access, order intake leaped 57%, corresponding to an organic increase of 36%. Revenue increased by 28% – 11% organically.
In Construction, order intake jumped 20%, with 3% organic increase. Revenue increased by 27%, with an organic increase.
Industrial order intake grew 24%, with a 12% organic increase. Revenue increased 30%, with organic growth of 15%.
Fighting inflation
"We have continued to mitigate the effects of high cost inflation through active price management, with several price increases made during the year and good cost control," said Jødahl. "The entire organization has worked diligently to manage the current challenges, in close dialogue with our customers, suppliers and partners. Cash flow improved in the quarter, compared to the first six months of the year, as a result of increased cash collection, and we will continue to have focus on the working capital."