Diesel or electric? It is a question that users of many products have asked themselves over the years, and now it is a subject that is up for discussion in the screening market as well.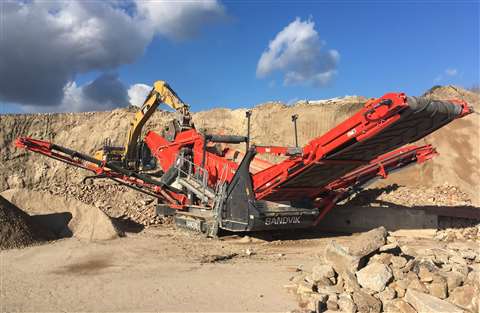 Sandvik Mobile Crushers and Screens has given its answer to the problem by launching a hybrid option to its mobile screening range.
It will be available on the QE341 QA441 and QA541 Doublescreen products, with further addition to the screening and scalping range to follow later this year including at the Hillhead show in the United Kingdom in June.
The company said it has made this addition to its portfolio to give the customer the flexibility to run its machine by diesel or electricity without compromising on mobility.
With an ever-increasing focus on efficiency and lowering cost per tonne, the hybrid has been designed to allow the end-user to operate the machine either diesel-hydraulically or electric-hydraulically by plugging-in to an external three-phase electric supply. It can also be connected to a separate generator on an upstream crusher when working in a train.
Sandvik believes there are numerous benefits of using an electrical energy supply, including environmental advantages where operating via electrical can lower carbon footprint through reduced emissions and noise, and the working environment for operators is generally cleaner and less hazardous with less fuel and oil stored on site.
The question of simplicity and ease of operation has also been a factor in the new design.
All machine operations are carried out using one user-friendly control station for both modes of operation. This avoids confusion and makes it much simpler and quicker for the operator to use.
Stringent criteria
Austria's Rubble Master is another company that has looked towards continued product development in a changing market.
As CEO and founder Gerald Hanisch says: "The criteria for recycled material are becoming increasingly stringent all the time. The fine particles in mixed construction and demolition waste are becoming more and more of a burden. This prompted us to put even more thought into possible ways of improving quality and with our active pre-screen we offer an innovative solution."
The active pre-screen, launched at Steinexpo in Germany last year, primarily serves to reduce wear and operating costs.
Thanks to this development, fine and ultrafine particles can be separated effectively and efficiently from the coarse input material.Rubble Master said this is another step in increasing the profitability and productivity of its crushers.
"At RM we brought together high performance and intuitive operation plus a compact design from the beginning. In the field of compact crushing we can turn to 25 years of experience and continue to enhance our mobile crushers all the time, confirming our pioneering role," added Gerald Hanisch
Mobile classifying
Kleemann showcased its Mobiscreen MS 952 EVO mobile classifying screen for the first time at CTT 2017 in Moscow, Russia. The screens supplement the tried-and-tested EVO series, whose screening and crushing plants are characterised by short tooling times, particularly good transport properties and high performance.
The track-mounted classifying screens of the range are the latest Kleemann development which can be used in recycling applications. The MS EVO range features two double-deck screening plants – the 702 and 952 – as well as the MS 703 and MS 953 three-decks.
The screen area measures approximately 7 sq m (75 sq ft) or 9.5 sq m (102 sq ft) in the upper deck depending on the model.
According to Kleemann, the screening plant is ideal for applications at alternating locations and due to its short tooling times, it can be moved quickly and used flexibly. The 952 can process up to 500 t/hr of material and produce up to three fraction sizes, two of which are classified exactly.
For further flexibility Kleemann offers several screen surfaces for different applications. The screen box is easily accessible from all sides, thus enabling the simple and quick replacement of screen surfaces. All other service components can be reached from the ground or the surrounding platform for uncomplicated maintenance work.
The 952 can be fed by a wheeled loader or an upstream crushing plant, with the optimised material flow of the screening plant results in high efficiency. The feed hopper has a very large load capacity which opens in the direction of the material flow thus enabling an even material distribution. The material is conveyed further via the 1,200 mm (47 in) wide feeding conveyor. As a result, the incline of the belt can be adapted hydraulically to the material flow.
The screening angle of the screen box can also be varied depending on the application. The impact plate at the belt discharge distributes the material evenly on the screen area and thus protects the plant against wear. When interlinked with crushing plants from the EVO series, whose size and performance are compatible with the EVO screening plants, the plants work very efficiently. To increase work safety, Kleemann uses an emergency-off system that functions across all screening and crushing plants.
Designed for medium to large operators, where high capacity and throughput are paramount, the Powerscreen Warrior 1800 is described as a tough, heavy duty machine built for screening, two- or three- way splitting and stockpiling in recycling and demolition aggregates applications.
With low ground pressure crawler tracks the Warrior 1800 is said to be highly mobile, with a versatile screen that accepts a range of media options including bofor bars, finger screens, woven mesh and punch plates.
A notable user to come on board with the product in 2017 was Dutch company Riwald Recycling, which installed the 1800 at its new site in Beverwijk through local dealer Van der Spek Vianen.
Riwald aims for 100% recycling and has invested in the future by deploying a high-tech granulator in combination with an associated scalper, allowing virtually all the dirt to be upgraded for reuse.
Metal recycling can be different: more sustainable, more professional and most importantly cleaner.
The new Powerscreen Warrior 1800 weighs 32 t and boasts a high capacity in recycling which is where Riwald comes into its own. It is equipped with a double-deck screenbox with a length of 4,880 mm (16 ft) and a width of 1,500 mm (59 in). It is also equipped with a hydraulic lift screenbox, to allow media sections to be swapped out faster.
Industry priorities
Mobile equipment manufacturer Edge Innovate has expanded its product offering with the launch of the TRT516 tracked trommel.
Recently unveiled in the USA, a medium-sized category trommel screener targeted at customers who operate on sites with space restrictions. The company says its robust design and ability to produce superior fine materials make ideal for processing construction and demolition waste.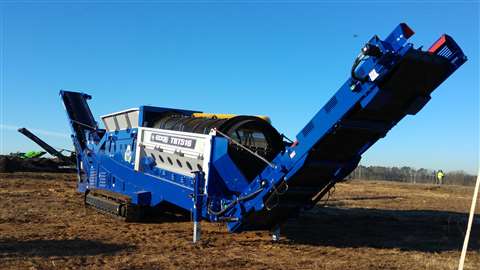 With hydraulic folding product conveyors, the self-propelled TRT516 tracked trommel has a quick transport procedure, allowing operators to move easily from site to site.
Similar to Edge's wheeled mounted TRM516, the TRT516 is an end conveyor trommel design that ensures against contamination of screened product from material cross over.
Large oversize and radial fines discharge conveyors also provide impressive stockpiling abilities.
Design features include a 4.9 m (16 ft) long drum, four-wheel direct drive system ensuring maximum trommel traction, variable speed drum and feeder conveyor and a 180° radial fines conveyor fitted as standard. Load sensing controls are also fitted as standard. The drum and the feeder will work together to prevent overloading using pressure transducer technology. The TRT516 is the first product to be added to Edge's growing range of recycling equipment in 2018, with more launches expected throughout the year.
Australian mobile crusher and screen manufacturer Striker has opened for business in Sri Lanka.
The company, whose dealer in the region is Minyu Lanka, said that the Sri Lankan economy is expanding, particularly in terms of requirements for fine aggregate and sand. With the use of river sand now illegal in the country, Striker believes its range of equipment is perfect for manufactured sand projects.
Striker's tracked sizing screens use high-efficiency inclined and horizontal vibrating screen boxes, while the Etrac range is suited to all forms of mineral industry applications from 120 t/hr to 400 t/hr aggregate plants.
This article first appeared in the March-April 2018 issue of Demolition & Recycling International. To register to receive the magazine on a regular basis, please visit www.khl.com/subscriptions