ALL invests in Skyjack telehandlers
By Lindsey Anderson06 June 2013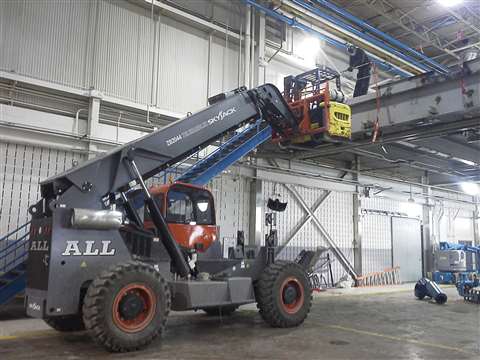 ALL Erection & Crane Rental Corp. has acquired two 20,000-pound (9,072 kg)-capacity Skyjack ZB2044 telehandlers, the largest capacity telehandler that Skyjack makes.
The two telehandlers, one already at work in ALL's Columbus, OH, yard and one delivered this month to the Cleveland headquarters branch, will "satisfy intensifying demand in each of these two markets," ALL said.
The Skyjack ZB2044 features a three-section telescopic boom that allows it to handle large loads at wind mill, power plant, mines and pipline sites.
ALL will also use the new telehandlers in such applications as bridge and highway work, industrial construction and maintenance, shoring, steel erection, and masonry work. "Demand and utilization in these industries are higher than in the past few years, and many of these projects are benefitting the Northeast Ohio region," the company said.
"Another advantage is that telehandlers can pick and place horizontally, whereas a crane is limited to a vertical setting of the load," ALL said. "The ZB2044 will be valuable for its ability to place large loads to the side of a building or structure."
The ZB2044 can lift 20,000 pounds with its boom fully retracted and its outriggers down or up. With the support of its outriggers, the ZB2044 can lift 12,000 pounds to its full 44-foot, 10-inch maximum height or provide 7,000-pound capacity at a 27-foot, 5-inch forward reach. On tires alone it can lift 10,000 pounds to a height of 44 feet or lift 4,000 pounds to 27 feet, 5 inches.