ALL purchases 20 crane package
By Hannah Sundermeyer31 May 2023
The ALL Family of Companies is adding a new 20-crane package from Link-Belt, including crawlers, hydraulic crawlers, rough terrain (RT) cranes and truck cranes.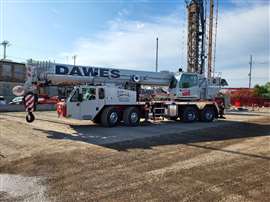 The purchase includes four each Link-Belt LS248HSL 200-ton crawler cranes and Link-Belt TCC-550 50-ton hydraulic crawler cranes, three Link-Belt 85RT 85-ton rough terrain cranes, two each Link-Belt HTC-86110 110-ton truck cranes, Link-Belt 238HSL 150-ton crawlers, Link-Belt TCC-2500 250-ton telescopic crawlers, and one of each Link-Belt 65HT 65-ton telescopic truck crane, Link-Belt 100RT 100-ton RT and Link-Belt HTC-8675 75-ton telescopic truck crane.
The units across the latest acquisition are expected to find rental work with steel erectors, general contractors and pipeline companies.
"The RT85 is a solid, trusted tool in our toolbox," said Steve Freckmann, general manager. "With its long boom, strong chart, and ease of transport, it's been a great crane for us, both as an operated and bare rental. Steel erectors love its great cycle times, line speed and smooth controls."
The cranes in this latest purchase will be part of ALL's rental fleet, deployed across the 33 North American branches.