Allround roofing
By Euan Youdale17 July 2014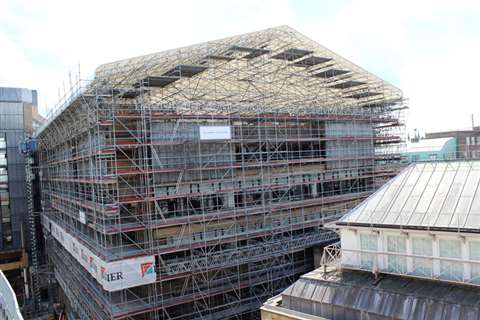 Layher has installed its largest Kedar XL temporary roof structure in Europe to date at Cambridge University in the UK.
The roofing system, together with Layher's Allround access and support scaffolding, was built by Connect Scaffolding for main contractor Kier Construction as part of the extensive upgrade work being undertaken on the ARUP Building Museum of Zoology.
"The installation has presented specific challenges," said Oliver Cave, managing director of Connect Scaffolding. "These include space and location considerations – there being no crane access possible – and the fact that the surrounding buildings and thoroughfares remained occupied and used throughout."
Layher Allround has been erected around the structure to a total of 12 lifts and an overall height of some 30 m with buttress support scaffold used at key points – no physical anchors being permitted to the majority of the building fabric.
"The 'brutalism' architectural style, for which the ARUP Building is well known, features a series of step-ins and cantilevered elements, which had to be accommodated by the scaffolding design," continued Mr Cave. "Thus walkways of varying depths are incorporated, which still gain from the absence of cross-bracing that is a characteristic of the Layher scaffolding design."
Because the Allround system is built from lightweight materials and features built-in rosette connectors, the number of components is minimised – a significant benefit in terms of safety, particularly in such an occupied location.
"This is also an important factor with the Keder temporary roof because the entire structure had to be assembled by hand from a wide-stepped gable," added Simon Lewis, senior design engineer at Layher.
"Roof truss components were raised by one of three Geda Hoists and fixed in position at one gable end, before being rolled out on nylon wheels set on a scaffolding track to create space for the next truss to be assembled. Once fully installed, the Keder XL sheeting was then pulled across the roof one bay at a time to complete the structure with the result providing protection from the weather and a naturally-lit working environment."
Mr Lewis also highlighted the innovative design of specialised tie transfer beams and tie collars, which have been used specifically to tie the roof system to the RC columns every 11 m.
The Layher Allround system in selected areas was built off steelwork that was also installed by Connect Scaffold as a primary support. This was undertaken as an additional safety measure relating to the location.
The project also incorporated access for extensive internal works, including a crash deck, which can be readily adjusted as the project proceeds.