AlmaCrawler partners with Matelev
AlmaCrawler has signed an official distribution agreement with Matelev for its material handling product lines in France.
Established in 2016, Matelev is a distributor of cranes and minicranes. Under the deal Matelev will provide sales and full after sales service for AlmaCrawler's Multiloader and T-Crane throughout France. Furthermore a new showroom has been set up in Saint-Fargeau-Ponthierry, where a technical team will also be present.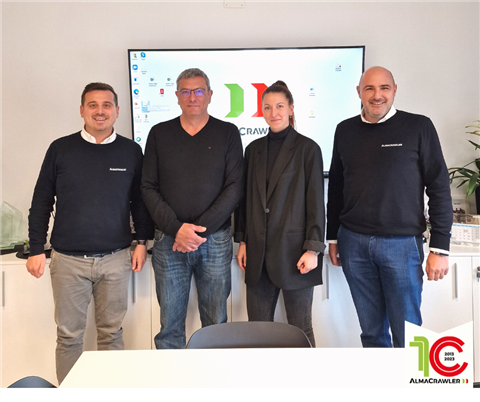 Commenting on the new partnership, Matelev's founder and managing director Frederic Leclerc thanked Almacrawler for placing its trust in the company. "With a growing market and increasing demand, this new partnership extends the range of equipment offered by Matelev and allows us to better respond to our customers' problems of transporting heavy loads on industrial or off-road ground," said Leclerc.
Based in Italy, AlmaCrawler is also a specialist manufacturer of tracked scissors, self leveling telescopic boom lifts and spider lifts. 
Dealer network manager at AlmaCrawler, Jonathan Vioni, commented, "We are extremely pleased to have established a new official partnership for our Multiloader and T-Crane line. The increasing demand of versatile products that 'fill the gap' by complementing existing offering and solves daily customer needs for various material handling activities, perfectly fits the proposition of our extensive range.
Vioni added that France has been a successful market for the manufacturer's Multiloader products since they were introduced two and a half years ago. "We felt it was time to establish a more dedicated presence and expanded network; one purposefully focused on bringing AlmaCrawler closer to our customers and their specialist daily needs."