ALMI block splitters pass emissions test
By Helen Wright02 June 2011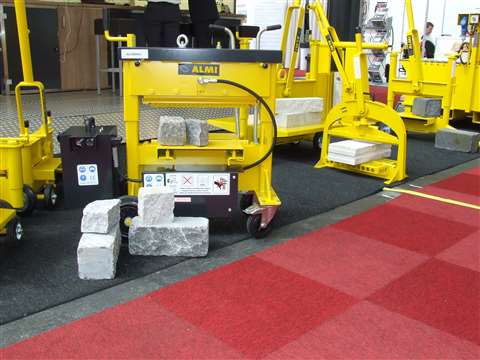 Dutch independent research institute TNO has found that quartz dust emissions from an ALMI battery driven block splitter are within safe limits, even when the equipment is in constant use over an eight hour duty cycle.
Netherlands supplier ALMI is exhibiting its AL43SH21 block splitter for cutting natural stone such as cobblestones, thick slabs and clinkers, at the International Rental Exhibition (IRE) in Amsterdam.
An ALMI spokesman said, "The outcome is very positive. You can work a full day with our machines without any problems and without any further safety measures".
TNO has awarded the cutter its highest quality logo after demonstrating that ALMI's manual and hydraulic block splitters meet the public limits set for respirable quartz (0.075 mg/m3) for a maximum duty cycle at 100% operational use.
Respirable quartz dust (silica dust) is a carcinogenic emission from the stone cutting process that can lead to a lung disease known as silicosis.
Health and safety organisation HSE has imposed strict policies on tools that are processing quartz materials to protect those who come into daily contact with this substance.

In addition to low quartz dust emissions, ALMI also highlighted the fact that its block splitters produce less noise and are much faster than using saws, requiring no water and no physical effort from the operator.