AMD forecasts savings with new JCB fleet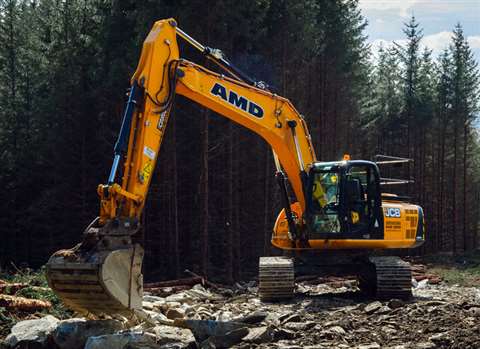 Scottish rental company AMD Contract Services has added eight new JCB tracked excavators to its fleet, and has forecast significant fuel savings after comparing the performance of the machines to older models.
AMD Contract Services has purchased JS130, JS145, JS220 and JS290 tracked excavator models as it expands its fleet.
The machines are already in use on a range of construction, groundworks and forestry projects, including a wind farm project in the Scottish Borders for Galeforce, and a forestry road project on the West Coast of Scotland.
The company has carried out a direct comparison between the new JS220, powered by the T4i-compliant JCB Ecomax engine, and an existing 2010 machine. Working on the same heavy-duty application, it said the new machine used six litres less fuel per.
AMD Contracts Services director, Fraser Dykes said, "We are saving approximately UK£4 (€4.9) per machine per hour. For our contracts division, which could typically complete 2500 hours per annum, that's a saving on fuel of £10,000 (€12400) in a year.
"It's also a great sales message for our plant hire business – that customers could save so much on fuel when they select machines from us."
The JCB Ecomax 4.8-litre diesel engine delivers 129kW (172hp) and is equipped with 2,000 bar common rail fuel injection, a variable geometry turbocharger and full electronic engine control.